Mooz-lum
(2011)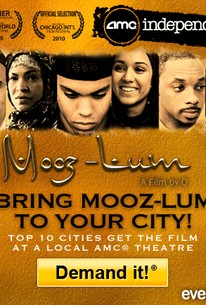 Movie Info
Demand it! now to have it play at your local AMC theater: http://eventful.com/moozlum We're making a movie that we hope will offer a different perspective on Muslims/Islam than what is normally portrayed. As a result, opening the minds & hearts of millions. With your help we will create a grass roots marketing campaign that will ensure the success of this film before it's release. This page is yours as much as it is ours. We want all of our supporters to get involved and make this a vibrant, interactive and fun journey to the finish line... And when the movie does come out, it will be a win for us all. The crew behind this film consists of many different religions, cultures & nationalities. We're not trying to push anything on anyone... We just have a story to tell. -- (C) Official Site
Critic Reviews for Mooz-lum
Audience Reviews for Mooz-lum
½
So, this what it is like to be a devout Muslim back in 2001 shortly and after.the World Trade Center collapsed at the hands of the Muslim terrorists. What an awesome dramatic movie played by Nia Long, Roger Guenveur Smith.as.the estranged Muslim parents.of Evan Ross.and Summer Bishil. As a child being raised by an extremely devout Muslim father..Taariq goes into college as confused as ever because of his new social surroundings. The harder he tries to getaway from the surreal and secretly strict upbringing...the harder it became to cope with his attempt to give up on his religious foundation. When tragedy strikes..it is then the he must rely on the same foundation to keep him sane from the painted is trying to leave. Very powerful all around performances. See this it will have you thinking in more ways than one.
Fascade Fiveoneeight
Super Reviewer
What could have been a solid film about family and community, instead just seemed like one cliche after another. Ultimately, there's too much going on, and because we don't spend time dwelling with the characters, the resolutions of the conflicts come off as too quick, too simple, too preachy, and too corny.
Cynthia S.
Super Reviewer
Mooz-lum Quotes
There are no approved quotes yet for this movie.