Munyurangabo
(2009)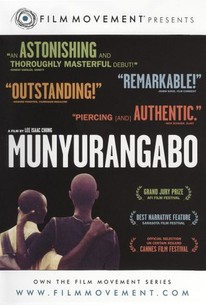 Movie Info
After stealing a machete from a market in Kigali, Munyurangabo and his friend, Sangwa, leave the city on a journey tied to their pasts. Munyurangabo wants justice for his parents who were killed in the genocide, and Sangwa wants to visit the home he deserted years ago. Though they plan to visit Sangwa's home for just a few hours, the boys stay for several days. From two separate tribes, their friendship is tested when Sangwa's wary parents disapprove of Munyurangabo, warning that "Hutus and Tutsis are supposed to be enemies."
News & Interviews for Munyurangabo
Critic Reviews for Munyurangabo
Audience Reviews for Munyurangabo
½
In "Munyurangabo," Ngabo(Jeff Rutagengwa) is mad at his friend Sangwa(Eric Ndorunkundiye) for spending their bus money, forcing them to hitchhike instead from Kigali. It turns out the money was for a dress shirt to impress his parents who he has not seen in three years. His mother(Narcicia Nyirabucyeye) is very happy to see her son but his father(Jean Marie Vianney Nkurikiyinka) is more than angry, saying that he wish his son had never been born. Things cool down as times are tough and the labor of the two men is needed in the fields. Regardless, Ngabo wants to move on because they have a man to kill, attested to by the machete he is carrying in his backpack. "Munyurangabo" is a compelling and deliberately paced look at Rwanda fifteen years after the genocide. It is interesting to see a new generation coming of age and how they are haunted by the mistakes and crimes of their parents' generation. While some seek revenge, others are left wondering what role their parents may have played in the atrocities. At the same time, the healing process that is necessary for the country to move forward is starting to unfold.
Munyurangabo Quotes
There are no approved quotes yet for this movie.