Murder at the Vanities
(1934)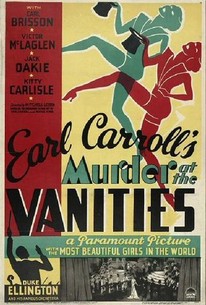 Murder at the Vanities Photos
Movie Info
+The Earl Carroll Vanities, a popular Broadway revue of the 1930s and '40s, is the setting for this murder mystery interspersed with an assortment of variety acts, including Duke Ellington performing "Ebony Rhapsody" and a novelty number called "Marijuana." Victor McLaglen stars as Bill Murdock, a detective investigating a series of murders during the opening night of a new edition of the +Vanities. When private detective Sadie Evans (Gail Patrick) is found murdered, Murdock must investigate between musical numbers to find the killer. When Rita Rose (Gertrude Michael) next turns up dead, Murdock concludes young ingenue Ann Ware (Kitty Carlisle) is the next person marked for death. Murdock has to find the murderer before the ending of the show or else he or she could disappear in the departing crowd of theatergoers.
Critic Reviews for Murder at the Vanities
Audience Reviews for Murder at the Vanities
½
Murder mystery with a musical backdrop shows its age but has some interesting numbers in particular Duke Ellington's orchestra's production and the now infamous Marijuana number with discreetly covered but unquestionably topless showgirls. Lost in amongst the hundreds of hopeful showgirls and chorus boys are Lucille Ball, Ann Sheridan and Alan Ladd all still years away from any kind of fame and hard to spot. The acting is okay but this is more of a curio as a good example of some of the things that were common before the code, implied or actual nudity, drug references and occasional swearing that would disappear for almost 3 decades when the Hayes code took full effect within a very short time after this film premiered.
Murder at the Vanities Quotes
There are no approved quotes yet for this movie.