Muyeong geom (Shadowless Sword)
(2005)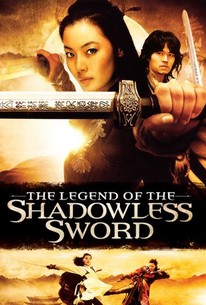 AUDIENCE SCORE
Critic Consensus: No consensus yet.
Muyeong geom (Shadowless Sword) Photos
Movie Info
The year is 927. After the prince of Balhae was assassinated, Lim, a former official, sends Yeon So-ha, a female warrior to escort Prince Dae Jeong-hyun from his 14-year exile back to Balhae, where he would ascend to the throne and restore order to the kingdom. The pair, however, find the journey to Balhae a perilous one. In this epic struggle of good and evil, the fate of a nation hangs in balance.
Critic Reviews for Muyeong geom (Shadowless Sword)
All Critics (2) | Fresh (0) | Rotten (2) | DVD (1)
We're just given a pastiche of stories and devices we've seen done a million times over and with a better result...
...beyond the scenery, costumes, and landscapes, there isn't much more than the sword fighting, and that gets old fast.
Audience Reviews for Muyeong geom (Shadowless Sword)
½
Kim Young-jun brings a Wuxia style to Korea with Shadowless Sword.
With 110 minutes to showcase, the story has its small share of twists; not so much as to create something special, but enough to keep interest at those moments of drama and slower pacing. The plot details incorporate enough buildup for most of the characters and all in all the story does have the sense of completeness.
The martial arts sequences show up throughout the entire picture with some decent CG thrown in the mix. The choreography is made up of highly stylized sword play which makes for some eye candy.
Seo-Jin Lee has a hint of a comical attitude with his character that stands out because the rest of the cast, including the likes of So-yi Yoon, Hyeon-jun Shin, and Ki-yong Lee, are quite monotone.
Shadowless Sword is one of the better stylized period pieces from Korea and is a recommendable film from that genre.
When an invading army assassinates the entire royal family of Balhae, a lone warrior is dispatched to locate an exiled prince and bring him back to unite the country and repel the invaders. Shadowless Sword's trailer was undoubtedly cut to attract the Hero/Crouching Tiger fan base, but really it has a lot more in common with the high octane swords and sorcery flicks of Tsui Hark and Sammo Hung from the late 80s and early 90s. Everyone with a sword has super powers, people fly around and the scenery (and combatants!) explode on cue and its all very, very silly. The script is really just a series of excuses for fights while the two heroes get all doe eyed over each other and the dialogue is dreadful. Not to mention the fact that the entire supporting cast seem to be doing bad impersonations of Jack Sparrow. But having said all that, it does get one important ingredient right; it doesn't take itself too seriously. The action occasionally crosses the line into absurdity (the scene underwater being the worse example) but as a whole the fight sequences are fun, the girls are pretty and the guys dashing. It's no Hidden Fortress, but as long as you're not expecting high art, it's an amusing distraction.
A period Korean martial arts film, this is a nice attempt at contributing to the flashy sword-play genre that I've known all my life to come streaming non-stop out of Asia. It's not a great film for story, but it's also not a case where the flashy sword-play completely overrides the substance and story of the film. And it is Korean after all, so it's definitely worth a viewing : )
I was especially taken with the movement of energy exhibited by some of the fighters. I've seen more and more of that in real life as I grow old, and I'm always curious about how realistically the ability to channel and manipulate qi/chi/ki is portrayed in films.
Lanning : )
Super Reviewer
Muyeong geom (Shadowless Sword) Quotes
There are no approved quotes yet for this movie.