My Name Is Albert Ayler
(2008)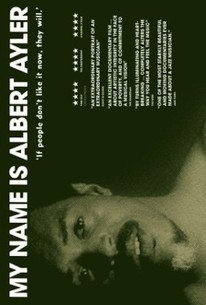 Movie Info
With his documentary My Name Is Albert Ayler, Swedish filmmaker Kasper Collin pays unbridled homage to the titular musician, one of the most innovative and electric but least-known figures in contemporary jazz. Ayler's obscurity is at least as attributable to his short lifespan as it is to his musical iconoclasm -- he died under bizarre and inexplicable circumstances in late 1970; on November 5 of that year, Manhattan police found his 34-year-old body floating in the city's East River, possibly (though not definitively) a victim of suicide. Collin approaches Ayler's life as a straightforward narrative, segueing smoothly from touchstone to touchstone. The picture thus covers the musician's upbringing in Cleveland, OH; his performances on the saxophone and oboe in a military band; his critical, shaping experiences in touring R&B groups across the U.S.; and finally, his decision to spin that R&B music off into an unprecedented form of experimental jazz on the landscapes of New York City and Stockholm, Sweden. Collin's narrative ends, of course, with speculation on Ayler's death. Collin devotes much screen time to an exploration of Ayler's friendship with the legendary John Coltrane, and to the sad reality that during the 1960s, truly groundbreaking jazz by African-American artists could only flourish in über-progressive Europe. Throughout the picture, the documentarian works in extremely rare archival footage of Ayler, and roots much of his narrative in interviews with such key figures as Ayler's Sunday school teacher father (in his nineties at the time of this production); Ayler's brother Donald, also a musician, and one with a history of severe mental disturbance; and a number of Ayler's nonfamilial musical collaborators including Sunny Murray and Gary Peacock. (Ayler's romantic partner and sometime musical collaborator, Mary Parks, declined to appear onscreen, though Collin works in extracts from a telephone interview with her.) It goes without saying that My Name Is Albert Ayler represents the only documentary portrait to date of the wondrous musician.
News & Interviews for My Name Is Albert Ayler
Critic Reviews for My Name Is Albert Ayler
Audience Reviews for My Name Is Albert Ayler
sad, beautiful and truly insightful. worth watching even if you think avant/free jazz is just ridiculous noise. Ayler's dedication to his vision of new expression is eerily manic but so pure and persuasive. completely inimitable and raw, r.i.p. Albert.
My Name Is Albert Ayler Quotes
There are no approved quotes yet for this movie.