My Scientology Movie
(2017)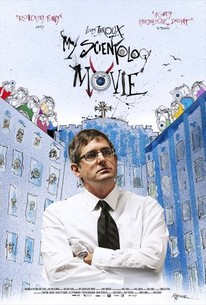 TOMATOMETER
AUDIENCE SCORE
Critic Consensus: My Scientology Movie offers a personal perspective on the controversial religion whose lack of investigative depth is more than balanced out by its sense of humor and all-around entertainment value.
My Scientology Movie Videos
My Scientology Movie Photos
Movie Info
'I find that the most inexplicable behavior is motivated by very relateable human impulses,' comments Louis Theroux as he heads to Los Angeles for his feature documentary, in collaboration with director John Dower and double Academy Award winning producer Simon Chinn, exploring the Church of Scientology. Following a long fascination with the religion and with much experience in dealing with eccentric, unpalatable and unexpected human behavior, the beguilingly unassuming Theroux won't take no for an answer when his requests to enter the Church's headquarters is turned down. Inspired by the Church's use of filming techniques, and aided by ex-members of the organization, Theroux uses actors to replay some incidents people claim they experienced as members in an attempt to better understand the way it operates. In a bizarre twist, it becomes clear that the Church is also making a film about Louis Theroux. Suffused with a good dose of humor and moments worthy of a Hollywood script, MY SCIENTOLOGY MOVIE is stranger than fiction.
News & Interviews for My Scientology Movie
Critic Reviews for My Scientology Movie
Audience Reviews for My Scientology Movie
It's well made, but due to the secrecy of the church, we know no more about it by the end of the documentary.
Marcus Woolcott
Super Reviewer
I love Louis's documentaries, but this one is a dud that goes nowhere. Maybe if you have absolutely no knowledge of Scientology, you could learn something, but I've read quite a few books about it, and this had nothing new to say. It's not entirely Louis's fault- he was never going to be able to get information. The movie within a movie was pointless too, but I guess it was to pad out the little he had to work with.
Nicki Marie
Super Reviewer
Whatever the common knowledge or conjecture that might exist about Scientology, this film is interesting and amusing but probably adds little. It alleges that Scientologists set out to ruin those who oppose them, that members pay a lot of money, that it is a form of cult brainwashing and that it uses intimidation to control people. The film would have made a stronger case if it took a more forensic rather than anecdotal approach. A lot of what it shows resembles the kind of bullying that people can witness in everyday life without venturing very far. Some of it is like those neighbourhood disputes that you see in infotainment news; it is funny in a low brow way. The film's star witness, a former leader in the Scientology organisation, is guarded in what he divulges; his emotional reactions are the most interesting part. A young man who had been more of a foot soldier gives a pragmatic account. You are also shown pictures of the Scientology buildings, including some vast, gothic real estate, and of glittering events that look like a cross between a political convention and a Hollywood awards ceremony. The training practices that are alleged are like something out of the 1950s, and there is a lot that sounds like unsophisticated science fiction. You see old videos of Tom Cruise - perhaps the main drawcard for audiences wanting celeb gossip. But the film suffers from superficiality, and a little too much theatre and self-referencing to be a cutting documentary. That might mean that Scientology has the power to keep its secrets; and/or that the film was not courageous enough. You could view the whole thing as a sorry tale of how our wealthy society wastes its bounty on arguments like these. Perhaps more worrying is the question of whether a belief in a master race with a supreme leader, whatever its label, which thinks that it's their way or the highway, could still get a foothold after all of the harsh lessons of modern history.
My Scientology Movie Quotes
There are no approved quotes yet for this movie.
Discussion Forum
Discuss My Scientology Movie on our Movie forum!