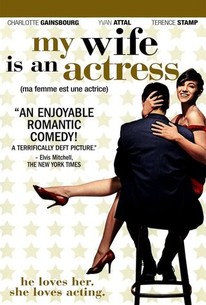 My Wife Is an Actress
2001, Romance/Comedy, 1h 35m
73 Reviews
2,500+ Ratings
What to know
critics consensus
My Wife is an Actress is a delightful, snappy romantic comedy. Read critic reviews
Rate And Review
My Wife Is an Actress Photos
Movie Info
A sports journalist (Yvan Attal) is jealous of his wife's (Charlotte Gainsbourg) fame and the attention she gets from strangers.
Audience Reviews for My Wife Is an Actress
The marriage between a successful actress and a sportswriter suffers as a result of jealousy, distance, and the nature of her profession. After watching this film, you shouldn't wonder why relationships in Hollywood last as long as milk on a hot day. Yvan Attal's deft, comic story-telling renders all the awkwardness a man might feel while watching his wife naked on screen. And the scene in which he surprises her on set only to find the entire cast and crew naked is truly hilarious. I'm glad that the film stopped at sexual jealousy and didn't suggest that Yvan was emasculated because his wife's success eclipsed his own. Such a plot would have been cliche and reduced Yvan's character to nothing more than a typically insecure male. Terence Stamp is perfectly cast as the cad co-star who crosses the line between creating "on-screen chemistry" and seducing another man's wife. His lecherous looks make him dangerously charming, and there is the right amount of self-aggrandizing to make his character worthy of comic ridicule. I was fully prepared to go as high as four stars until the end. I don't know what Attal was thinking, but the story never resolved. We never know what motivates this couple's decision, and as a result, it's difficult to determine what exactly Attal is saying about these characters or the business of filmmaking. Overall, though, <i>My Wife Is an Actress</i> provides some brilliant moments and is filled with charming performances.

A terrifically charming and deft film about the thick line that separates film glamour from the real world, and the thin line between common sense and paranoia. It's a pleasure to watch the two leads - Yvan Attal and the fabulous Charlotte Gainsbourg - act out their psychodrama - be it 'faux' or genuine - for the big screen, and though it's not much more substantial than Woody Allen's similar <i>Hollywood Ending</i>, Attal's briskly paced film has a lot more energy. Not too fancy, not too filling, not too fluffy, but definitely tasty and sweet.
See Details