Native Land
(1942)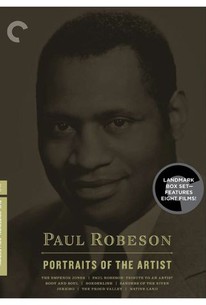 AUDIENCE SCORE
Critic Consensus: No consensus yet.
Movie Info
The exigencies of the first Hollywood "Red Scare", fomented by the Martin Dies committee, prompted the US Senate Civil Liberties Committee to produce Native Land, a 1942 paean to the Four Freedoms. Narrated by Paul Robeson, the film employs a cast of familiar if not stellar character actors in a story of how certain enemies within the US have done their best to suppress their fellow citizens' rights to freedom of speech, freedom of religion, freedom of assembly and freedom from want. The villains are the usual run of fat-cat capitalists, bigoted "patriots" and strikebreakers, while the heroes and heroines are farmers, sharecroppers, union leaders, minorities and the like. The screenplay leans towards the dogmatic at times, but the actors are sincere and the rousing musical score by Marc Blitztein (and old hand at this sort of agit-prop entertainment) is first-rate. Not suprisingly, many of the contributors to Native Land--Art Smith, Howard Da Silva et. al.-ended up being blacklisted during the Communist "Witch Hunt" of the 1950s.
Critic Reviews for Native Land
All Critics (3) | Top Critics (2) | Fresh (3) | Rotten (0) | DVD (2)
Manifestly, this is one of the most powerful and disturbing documentary films ever made, and certainly it will provoke much thought and controversy.

If you subscribe, as I do, to the notion that the most "dated" films are often the ones that have the most to teach us about their respective periods, you shouldn't miss this singular work.

Based on US Senate Civil Liberties Commission records and other public documents, this is American propaganda at its finest.
Audience Reviews for Native Land
"Native Land" is a rousing call to action, featuring dramatized vignettes of true stories of those who risked everything to fight for their right to freedom of speech in organizing labor against big business during the Great Depression. Of special interest is the fact that the movie does not stop there, as it is also for an integrated brotherhood, open to all, while also warning about the dangers of the terrorist Ku Klux Klan. As you can see, "Native Land" is a movie that is well ahead of its time that goes beyond the accomplished way it is filmed with more than its fair share of suspenseful scenes. And as much as things have changed for the better in the decades since this movie was made, it is still relevant today as unions can still be important in this day and age where most of the workers are unorganized and issues like a working wage and health care remain paramount. Plus, Paul Robeson narrates and sings. How cool is that!
Native Land Quotes
There are no approved quotes yet for this movie.