Next Avengers: Heroes of Tomorrow
(2008)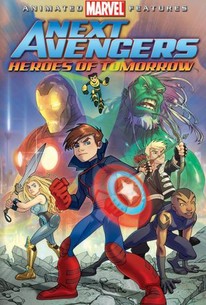 AUDIENCE SCORE
Critic Consensus: No consensus yet.
Next Avengers: Heroes of Tomorrow Photos
Movie Info
When a nefarious villain named Ultron emerges to threaten mankind, the next generation of superheroes leaps into action and prepares to make their famous parents proud. It's been decades since Ultron defeated the original Avengers, and these days even the few folks that had held out hope for the future are finally ready to admit defeat. But Tony Stark has a surprise up his sleeve in the form of four amazing teenagers who just might have the power to defeat Ultron once and for all. But will James (son of Captain America and Black Widow), Pym (son of Wasp and Giant Man), Torunn (daughter of Thor) and Azari (son of the Black Panther) truly be capable of defeating the villain who brought about the downfall of their powerful parents? As the battle gets underway and Hawkeye's sharp-shooting son leaps into the fray, the team realizes that they might stand a fighting chance if they can only track down the mission Hulk and encourage him to become a member of the team. Should they succeed in defeating Ultron, this group will forever be known as The Next Avengers. ~ Jason Buchanan, Rovi
Critic Reviews for Next Avengers: Heroes of Tomorrow
Audience Reviews for Next Avengers: Heroes of Tomorrow
Not that bad, Could of been great if the tone was more darker, The story was fun but the execution was poor, It's more for the kids than fans and the animation felt like it came straight out of a Saturday morning cartoon, It's on par from what I expect from the animated Marvel films, Which isn't saying much.
Jamie Clarke
Super Reviewer
½
Marvel's animated feature Next Avengers: Heroes of Tomorrow delivers a bold new vision of the Avengers. Twelve years after being put into hiding, the children of the Avengers are targeted by Ultron when they're discovered in a secret arctic base. The story is quite interesting and the characters are especially compelling. Additionally, the animation is well-done; featuring colorful and simple designs that create a unique visual style. Daring and bold, Next Avengers: Heroes of Tomorrow is an impressive and exciting adventure.
Dann Michalski
Super Reviewer
The children of heroes past are our only hope for the future! Good movie! Kids showing off there skills were right on. It was nice to see the old fellow avengers especially the hulk, he stills kicks ass. I bet this movie was made for younger audience so they can get to know the heroes and avenger stories time by time. The children of the Avengers hone their powers and go head to head with the very enemy responsible for their parents' demise.
Next Avengers: Heroes of Tomorrow Quotes
There are no approved quotes yet for this movie.