Night Monster (House of Mystery)
(1942)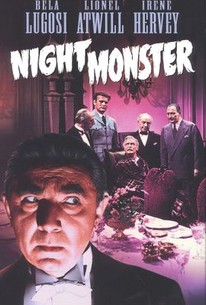 AUDIENCE SCORE
Critic Consensus: No consensus yet.
Night Monster (House of Mystery) Photos
Movie Info
Reclusive Kurt Ingston (Ralph Morgan) finds himself playing host to an extraordinary array of guests at his decaying old mansion. Among the medical guests are psychiatrist Lynn Harper (Irene Hervey), who is there to evaluate Ingston's daughter Margaret (Fay Helm), whose sanity has been called into doubt over her claim that she has seen some sort of inhuman fiend stalking the grounds after dark; and then there are doctors Timmons (Frank Reicher), Phipps (Francis Pierlot), and King (Lionel Atwill), all well known to Ingston -- for the botched operation that left him crippled for life; and then there's the mysterious Agor Singh (Nils Asther), a mystic with a strange hold on Ingston. When these people start dying grisly deaths, hero Dick Baldwin (Don Porter) must figure out how these seemingly impossible killings are being carried out, and by whom, despite clues that appear to lead nowhere. Hovering over the proceedings, in one of his least rewarding roles at Universal, is Bela Lugosi playing Rolf the butler. Needless to say, Rolf -- because he is played by Bela Lugosi -- seems to be hiding some mysterious connection to the strange goings on. And the presence of Lionel Atwill is a similar "clue" put before audiences by the movie's makers, which helps to make Night Monster lots of fun, if not always logical. Additionally, future star Leif Erickson cuts a memorable figure as a menacing chauffeur; and Fay Helm, perhaps best remembered today as the disturbed mystery woman in Robert Siodmak's Phantom Lady (1944), dominates the serious acting with her portrayal of the seemingly insane sister.
Rating:
NR
Genre:
,
Directed By:
Written By:
In Theaters:
On DVD:
Runtime:
Studio:
Universal
Critic Reviews for Night Monster (House of Mystery)
All Critics (3) | Fresh (2) | Rotten (1)
The film is delightfully over-the-top -- as when we find Fay Helm raving that the whole house "reeks" of blood about a minute into the movie.

Mountain Xpress (Asheville, NC)
Audience Reviews for Night Monster (House of Mystery)
½
A wealthy, embittered cripple (Ralph Morgan) invites the doctors he blames for his state (Lionel Atwill, Francis Peirlot and Frank Reicher) to his mansion in order to witness the miracle he hopes will cure him: A swami (Nils Asther) has discovered a way to use mindpower to materialize matter from thin air, and he believes this method can be used to give him new limbs. Other house-guests include a mystery writer friend to the crippled man(Don Porter) and a psychologist (Irene Hervey) visiting to help his troubled younger sister (Helm) with her mental problems. When a murderer that seems to materialize and dematerialize at will starts killing members of the household staff and guests, everyone one and anyone can be the next victim... or possibly even the killer. "Night Monster" is a mystery film with horror overtones that is as crowded with plots as it is with characters. The writers and director do a better job keeping all the threads flowing than is the case in many films similar to this, making good use of all characters and managing to not tangle the plots too badly. The filmmakers even manage to throw in enough red herrings and plausible suspects that the true nature and identity of the killer isn't certain to viewers until the Big Reveal at the end of the movie. (The only suspect that never seems likely is the bulter played by Bela Lugosi, even if I'm sure the director was expecting viewers to automatically assume he was nefarious because it's Bela Lugosi.) The film is also impressive for the dark mood that pervades it. While there are a couple of "comic relief characters" in the film, they are more subdued than is often the case if movies of this vintage, and their buffoonery is deployed to augment the darkness of the film rather than dispel or undermine it... like where they find the body of one of the victims. The expressions of cowardice are comical, but they enhance the grim mood of the film rather than lighten it. Each of the murders (or close brushes with the killer) are also very expertly presented. As is to be expected, we never see any actual killings, or even dead bodies, but we don't need to because the scenes are so expertly staged. Even more powerful is when the mysterious killer prowls the marshes around the mansion--the otherwise ever-present sound of croaking frogs suddenly ceases. The silence is even more unnerving than the screams of the victim that soon follow. This is not a perfect film, however, and the filmmakers don't quite manage to keep all the balls in the air for its full running time, as they stumble badly when it comes to the third act. As it comes to its fiery conclusion, the filmmakers start to lose track of the characters and subplots, with Bela Lugosi's character vanishing from the scene entirely and a bit of involvement of the deus ex machina that makes the attentive viewer wonder why a certain character could have let things get so far out of hand and/or didn't speak up sooner. However, these are problems that won't come to mind until after the film is over, and until they do, you will be in for a very enjoyable ride. Reportedly, Alfred Hitchcock believed "Night Monster" was an important film as it was being made. If he was basing his opinion on footage as it was assembled into the final product, I can see why he might say that. It is a film made up of some very finely crafted parts, even if there ultimately seems to be a piece or two missing. -- If you liked this review, I cover many more classic movies on my blog "Shades of Gray": http://moviesinbw.blogspot.com/
Steve Miller
Night Monster (House of Mystery) Quotes
There are no approved quotes yet for this movie.
Discussion Forum
Discuss Night Monster (House of Mystery) on our Movie forum!