The Nightcomers
(1972)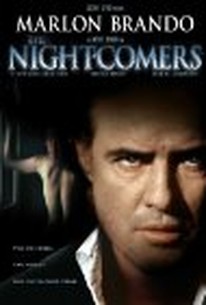 AUDIENCE SCORE
Critic Consensus: No consensus yet.
Movie Info
Marlon Brando delivers a respectably creepy performance in the Michael Winner directed The Nightcomers -- a film inspired by the characters in Henry James' The Turn of the Screw. On a British country estate, two recently-orphaned children, Miles (Christopher Ellis) and Flora (Verna Harvey), live on their own with only a nurse, housekeeper, and gardener as companions. Miles and Flora are particularly fascinated by the gardener, Quint (Marlon Brando). In fact, fascinated to the point of obsession, the boy and girl model their young lives after him. When Quint becomes involved with the prim and proper nurse, Miles surreptitiously views their love-making and keeps it in mind for future reference. Gradually, Miles and Flora adopt the gardener and the nurse's love-hate relationship for their own, copying their adult behavior with child-like abandon. Finally, when the housekeeper finds out and decides to fire the gardener and the nurse, the children are thrown into a panic. Not wanting their two favorite subjects to be separated, the children decide to take things into their own hands. ~ Paul Brenner, Rovi
Critic Reviews for The Nightcomers
All Critics (4) | Fresh (3) | Rotten (1) | DVD (2)
Michael Winner's rare, ambitious film tries to reimagine the prequel to Henry James' famous novel and its characters, offering Marlon Brando one of his most malevolent and disturbing roles; a good companion piece to The Innocents.
Strips the artistry of the Henry James original and leaves us with a hairy, overweight, naked and sweating Brando brutally kneading Stephanie Beacham's breasts into new shapes
May 2, 2008 | Rating: 5/5
Michael Winner's film ends where James's tale begins, and it is a deflating attempt to flesh out that which was never meant to be fleshed out, describing in sordid detail the love affair between the mistress and the groundskeeper and how it affected the t
June 15, 2007 | Rating: 3/5
Audience Reviews for The Nightcomers
I liked how this movie was strange and creepy, but I also didn't like this movie because it wasn't creepy enough and it was predictable in the end. It's an okay movie, but it could have been a lot better.
½
This is a semi-formed notion of a movie, a mess that limps from idea to idea without ever letting the audience in on any of them. Scenes of sado-masochistic perversion are spliced periodically throughout the course of a hideously written mystery story, none of it clear enough to add up to anything. Overall, the acting is dismal (with the exception of Brando, of course). The two children at the center of the story are painful to watch, and their low grade of acting is even more painful under such clueless direction. Brando makes some interesting character choices and he's always engaging to watch, but that's about all I have to say in favor of this one. Steer clear.
The Nightcomers Quotes
There are no approved quotes yet for this movie.