Nightfall
(1957)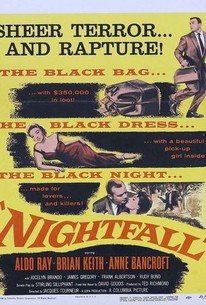 Movie Info
This classic film noir, adapted from a David Goodis novel and filmed by Jacque Tourneur, is the tale of an artist falsely accused of murder who is forced to flee both the law and organized crime when the real killers think that he has their loot.
Critic Reviews for Nightfall
Audience Reviews for Nightfall
½
Aldo Ray as an innocent man accused of murder who just so happens to meet a fashion model (Anne Bancroft) while on the lam (we all should be so lucky). The title has zip to do with the story, speaking of which, even seen in a positive light plays as noir light. But its competently achieved, if easy on the tension dynamic. Rudy Bond is standout as a 50's version psycho.
Kevin M. Williams
Super Reviewer
½
In "Nightfall," James Vanning(Aldo Ray) has a conversation with Ben Fraser(James Gregory), an insurance investigator, at a bus stop before deciding to go into a bar. There, he takes a seat next to Marie(Anne Bancroft, impossibly young), a model, and loans her enough money for a drink. They hit it off and agree to meet later which is a shame when John(Brian Keith, highly improbably young) and Red(Rudy Bond) come menacingly back into his life, really wanting to know where the money is which reminds Vanning of happier days, camping with his best friend Doc Gurston(Frank Albertson)in Wyoming. As behooves any good film noir, "Nightfall" works much better in the shadows with its crackling dialogue than in the harsh glare of day. The movie starts well, dealing out clues methodically, especially Fraser's involvement. At the same time, it ably depicts the darkness lurking just behind 1950's conformity as the movie neatly seques between Vanning's lonely story and the domestic back and forth between the Frasers. There is also some fine location work for the time while the supporting cast fares better than the dull lead. Sadly, in trying to find a way out, the movie takes the easiest path in tying together the pieces too tightly for this sort of film.
½
Average noir with some bright spots. Aldo Ray is a interesting actor, but has a tendency to smile too much in this film. He has a great look, but comes across as more of a teddy bear than a bad ass. Keith and Bond are great bad guys who dislike each other, but want to know where their money is hidden. Bancroft is just a pleasure to look at and has a great presence in this film. She and Ray have great chemistry, but fall in love too quickly and it seems a little tact on. Not a great film, but is still enjoyable.
cody franklin
Super Reviewer
Nightfall Quotes
There are no approved quotes yet for this movie.