Nihon chinbotsu (The Sinking of Japan)
(2006)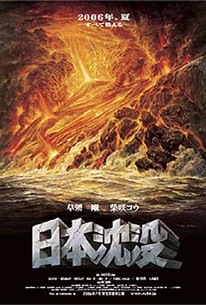 AUDIENCE SCORE
Critic Consensus: No consensus yet.
Movie Info
Japan will sink down to the deep sea. The governments only hope is evacuate all Japanese to some other countries.
Critic Reviews for Nihon chinbotsu (The Sinking of Japan)
Audience Reviews for Nihon chinbotsu (The Sinking of Japan)
½
After a massive earthquake devastates Japan scientists discover that the country has less than a year before it sinks into the ocean! Now I don't mind a bit of human drama to go with my disaster movies but this one got a little bit too sentimental for me at times. This isn't your non-stop special-effects extravaganza like "2012". We get a bunch of brief but nicely done sequences of disaster ranging from Earthquakes, Volcanoes to Tsunamis, but add them altogether and it only amounts to around 4 minutes, the other 2 hours 10 minutes mostly consist talkative politics, scientific babbling and dilemmas faced by a bunch citizens contemplating their future - all interesting to a point but it was too much. It's not a bad movie by any means, it's actually pretty good. I prefer my disaster movies to be a bit more exciting though.
½
A little illogical movie about disaster... In the beginning they said that Japan will sinking in about some days, but I forgot how many... But the truth in the movie is they sank in just few days later... I think that kinda mannered or something.... But a pretty good effects...
Sanjaya 丘耀文
Super Reviewer
½
It's not too often that you get to see some sort of giant disaster movie coming out of anywhere other than the U.S. Well, this film comes straight from Japan and it isn't the usual asteroid or volcano disaster. The entire country of Japan is sinking.
The introduction of this film starts out pretty well. They literally drop you in the movie right into the after effects of a huge earthquake. I guess you could say that the process of Japan sinking is already under way. Before I move on, let me just say that this film is more of a dramatic disaster movie, like Deep Impact, rather than an action adventure disaster movie, like Armageddon. This movie has a slow feel to it. Right after the quick introduction the slowest part of the movie kicks in for the next 40 minutes. They use this time to build up the characters and give the background to why Japan is sinking. It is a pretty believable reason in my opinion. Of course I am no scientist.
Once you hit the 40 minute mark you are treated to some mini-disasters every ten minutes or so for the rest of the movie. Actually, they are not so mini. Earthquakes, tsunamis, and eruptions. With that said, there is no really huge explosive disaster, but more of a series of disasters that slowly eat away at Japan as it gradually falls apart throughout the entire movie.
What makes this film even more unique is that it doesn't focus that much on the solution to stop the problem, although there is one at the ending. The bulk of the film focuses on the evacuations of the people as these disasters are taking place.
The acting is pretty good all around, but my only problem is with Tsuyoshi Kusanagi, who plays the lead. He is just too bland most of the time. Kou Shibasaki and Etsushi Toyokawa give the best performances.
If you come looking for a huge action packed disaster movie, you will be disappointed. Watch this if you want a nicely told story with some good CG and cinematography.
Nihon chinbotsu (The Sinking of Japan) Quotes
There are no approved quotes yet for this movie.