No Man's Land
(2001)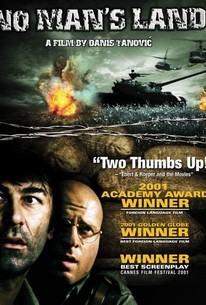 Movie Info
The grim futility of the war between Bosnia and Serbia is reduced to its essence as two enemy soldiers are forced to share a wary trust for one another in this drama. A group of Bosnian soldiers are advancing upon Serbian territory during a misty night when the fog lifts at daybreak, making them plainly visible to their enemy. Serb forces open fire upon them, and soon only Chiki (Brancko Djuric) is still alive, after diving into a trench in no man's land. Two Serbian soldiers scouting the area set up a land mine using the body of a Bosnian soldier as "bait;" if moved, the mine will jump into the air and explode. Chiki watches as the soldiers set the trap, and furious at the disrespect to his fallen comrades, he kills one of the Serbs, and takes the other, Nino (Rene Bitorajac), hostage. With both soldiers alone and equally armed, they find themselves at a stalemate, and begin trying to attract help from either side. Eventually, the two men are found by a squadron of French soldiers attached to a U.N. peacekeeping unit; now held by supposedly neutral forces, Chiki and Nino are with the French troops when it's discovered that the dead Bosnian soldier isn't dead after all, though no one is sure how to disarm the mine without killing him in the process. No Man's Land was the debut feature from Bosnian writer and director Danis Tanovic.
Critic Reviews for No Man's Land
Audience Reviews for No Man's Land
Two Bosnians and a Serb are trapped in a trench during the war between Bosnia and Serbia. I didn't think that this actually happened or that it could have happened; from the beginning of the film, I knew that it was a metaphor. And as metaphors go, it's pretty good. The situation is, of course, contrived, but it allows Bosnian writer/director Danis Tanovic to show the futility of war and the arguments, which are essentially identical from both sides. He waxes political when he includes the ineffective international community, suggesting that while other nations are well-intentioned, their efforts are burdened by bureaucracy. The characters are cut from bland cloth, essentially types rather than real people, but Tanovic assumes that in metaphors, we don't require nuance; he's likely right. Overall, No Man's Land is not a great film, but it succeeds in what it sets out to do.
Jim Hunter
Super Reviewer
½
A terrific movie with many, many layers. The UN is ripped for its do-nothing foolishness, but equally well presented is the difficulty of peacemaking itself. Ultimately it is not the failure of the UN, but the failure of humans to let go of the past in favor of peace. Biting drama, well conceived and executed. All this, and humor, too.
Cynthia S.
Super Reviewer
½
I'm pretty sure my favorite part was the random appearance of the villain from Ace Ventura 2. This is by no means a movie that I got into, but I can't deny that it's an interesting concept. It's just that some of the symbolism is way too obvious and it takes away from the overall story and message. One thing I really liked was the idea of broadening the scope ten fold about half way in. There's all this intimacy and then suddenly it's like an entire UN fleet and a news team. The Reservoir Dogs atmosphere to the initial character interaction is what I would consider weak, mainly because all I was thinking about was Reservoir Dogs.
Conner Rainwater
Super Reviewer
No Man's Land Quotes
| | |
| --- | --- |
| Jane Livingstone: | Neutrality does not exist in the face of murder. Doing nothing to stop it is, in fact, choosing. It is not being neutral. |
| Jane Livingstone: | Neutrality does not exist in the face of murder. Doing nothing to stop it is, in fact, choosing. It is not being neutral. |