No Time for Sergeants
(1958)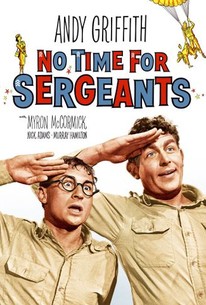 AUDIENCE SCORE
Critic Consensus: No consensus yet.
No Time for Sergeants Videos
No Time for Sergeants Photos
Movie Info
Mac Hyman's hilarious barracks novel No Time for Sergeants was adapted for TV by Ira Levin in 1955, with newcomer Andy Griffith as bumptious Air Force draftee Will Stockdale. This TV version was soon afterward transformed into a Broadway play, and then a movie, again with Griffith in the lead. Brought to the Air Force base in handcuffs because his farmer father has been hiding his draft notices, good-natured Will becomes the target of ridicule for the other transcripts. Especially nasty is Private Irvin (Murray Hamilton), but Will is able to forgive him because he knows that Irvin is suffering from some mysterious disease called ROTC. Will's best pal is hot-headed private Ben (Nick Adams), who wants to be transferred to the Infantry and convinces Will to try for the same goal. Slowly becoming aware that the trusting, naïve Will may prove to be a troublemaker, career sergeant King (Myron McCormick), who wants nothing more out of life than a little peace and quiet, tries to keep Stockdale out of mischief by appointing him "PLO" -- Permanent Latrine Orderly, a dubious distinction in which Will takes enormous pride. Later on, King tries to pull strings to get Will transferred, succeeding only in losing his sergeant's stripes. The story goes off on a zany tangent when Will and Ben find themselves on a crippled plane in flight. They manage to escape with their lives, but all evidence suggests that they've been killed in the plane's crash. Imagine the dismay of newly reinstated Sergeant King when Will and Ben show up in his office -- just as the entire base is gathered for a memorial service for the two "fallen heroes." Featured in a minor role as a "coordination officer" is Griffth's future TV cohort Don Knotts, while Sammy Jackson, who played Stockdale in a 1964 sitcom version of No Time for Sergeants, shows up in an unbilled bit.
Rating:
NR
Genre:
Directed By:
Written By:
In Theaters:
On DVD:
Runtime:
Studio:
Warner Home Video
News & Interviews for No Time for Sergeants
Critic Reviews for No Time for Sergeants
All Critics (3) | Fresh (2) | Rotten (1) | DVD (2)
Even today, more than 50 years after No Time for Sergeants was made, the film works as a comedy. Bottom line, it made me laugh.

...a lamentably uneven piece of work that's rarely as compelling as its star's magnetic performance.

No Time For Sergeants is ripe for re-discovery by a new generation, and ripe for re-visiting by those who remember it fondly.

Audience Reviews for No Time for Sergeants
½
Before he played the Sheriff without a gun Andy Taylor in what is likely the greatest TV comedy of all-time, The Andy Griffith Show, Andy Griffith started his wonderful career out with a little-known comedy called No Time for Sergeants. While it's not that well-known today, the film helped make Andy Griffith more popular, which led to his role in the acclaimed show I mentioned. As for the film, I can clearly see why Andy was so excellent in his roles. In the film, Andy Griffith plays Will Stockdale, a Southern American farmer who's been drafted to serve in the Air Force. Despite being dragged to the base in handcuffs (due to his father hiding the draft notices), Stockdale is excited about serving his country, but his lack of knowledge of the military in general brings him to the subject of ridicule. But Stockdale, despite this, still intends to make things right, but he unintentionally keeps annoying his fellow army men. The film also features Nick Adams as Stockdale's army pal Ben, who longs to join the infantry, Murray Hamilton as Private Irwin, who, according to Stockdale, is suffering from a "disease" called ROTC, Myron McCormick as the annoyed Sergeant King, and in his big-screen debut, Don Knotts makes a one-scene appearance as a coordination officer. The story started out as a famous novel which was then made into a TV movie also starring Griffith, which would then be made into a Broadway play. Either way you see it, the film version of No Time for Sergeants is a very funny comedy. Now I was a little skeptical of the film first cause it takes its time for it to develop. The opening scene with Griffith being recruited I felt was a little stereotypical when it comes to depictions of Southerners and there just wasn't much comedy in this scene. But once we go into the barracks, then the film becomes a truly funny masterpiece. Tons of comedic sequences are put in this film, and they're very funny, which is funny cause the film was directed by Mervyn LeRoy, who was best known for directing dramas like I Am a Fugitive From a Chain Gang. But, the great thing is, the comedy is truly funny comedy. Who makes the film the funny film it is? Well, the answer is easily Andy Griffith. Like his role as Andy Taylor in the already mentioned masterpiece show he starred in for eight years, Griffith could have made his Southern drawl comedic approach a little goofy and silly, but what he does is take the drawl, make it into an form of innocence, and creates a dumb but truly funny character. He also can move people in terms of American pride, especially in a scene where Griffith compliments a trumpeter playing "Taps". As for the comedy, Griffith leads into some very hilarious moments in the film, such as a scene where he becomes the "Public Latrine Officer", a sequence involving Don Knotts (who, just like he would steal the show as Barney Fife in The Andy Griffith Show, would steal his one scene here), a sequence involving a psychiatrist, and the ending involving his supposed death. Nick Adams also had some memorable moments as Griffith's army buddy, and while it might have been funnier had Don Knotts done the role, Adams was still funny in the role just the same. Myron McCormick is also funny as the annoyed Sergeant King, particularly in his facial expressions. No, it will never outdo The Andy Griffith Show, but for his first film appearance, Andy Griffith provides that sense of innocence and simple country humor that makes No Time for Sergeants a funny film. If you loved The Andy Griffith Show, then you would enjoy this film as well.
Jacob Martin
½
Andy Griffith rose to fame through his early comedic albums (such as his hilarious description of the game of football) and his performance in the teleplay "No Time For Sergeants", a role he returned to on Broadway and then finally...in this feature length film version from 1958. Griffith is funny as the happy-go-lucky but not too bright Will Stockdale, a country boy drafted into the US Air Force. Griffith is great in the lead, and you can see why he became popular enough to garner his own TV series...and if you watch the early episodes of "The Andy Griffith Show" you can see that Griffith is playing Stockdale and his persona from his records a bit, before toning it down to become the best straight man in sitcom history. Don Knotts also has a small role in the film, but a memorable one.
Ken Scheck
½
Silly little comedy walks a fine line between charm and idiocy. What puts it over is the performances and the script full of humourous lines. Myron McCormick is wonderfully flustered as Sgt.King and Andy Griffith plays the simpleton Will Stockdale with just the right amount of innocence so he does't come across as a buffoon just a not very clever, naive but good hearted bumpkin. Nick Adams is also highly enjoyable as Andy frustrated buddy. Don Knotts only has one scene but he steals it.
No Time for Sergeants Quotes
| | |
| --- | --- |
| Psychiatrist Maj. Demming: | I I would rather live in the rottenest pig sty in Tennessee or Alabama then the fanciest mansion in Georgia. How ?that |
| Psychiatrist Maj. Demming: | I would rather live in the rottenest pig sty in Tennessee or Alabama then the fanciest mansion in Georgia. How's that? |
| Will Stockdale (Narrator): | Well, sir . . . I thing where you wanna live is your own business. |
| Will Stockdale (Narrator): | Well, sir... I thing where you wanna live is your own business. |
| | |
| --- | --- |
| Ben Whitledge: | Have you ever had R.O.T.C.? |
| Will Stockdale (Narrator): | No . . ., but Irvin did! Close to a year of it. He's so or 'ornary I thing he still might have a touch of it. |
| Will Stockdale (Narrator): | No, but Irvin did! Close to a year of it. He's so or 'ornary I thing he still might have a touch of it. |
| Ben Whitledge: | No, Will. R.O.T.C. ain't a disease, it's trainin' . . . Reserve, Officer's, Training . . ,uh . . .Corporation! |
| Ben Whitledge: | No, Will. R.O.T.C. ain't a disease, it's trainin'. Reserve, Officer's, Training, uh corporation! |