Nobody Walks
(2012)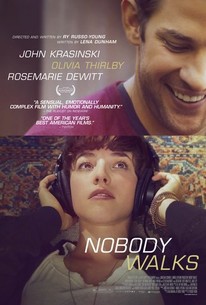 Movie Info
Martine (Oliva Thirlby), an artist from New York, arrives in Los Angeles to work on her film. She is staying with friends of a friend, Julie (Rosemarie DeWitt), her husband Peter (John Krasinski), Julie's teenage daughter Kolt (India Ennenga), and their young son. From the day that Martine walks into the the lives of this open-minded, relaxed California family, everything issubtly set off balance....Peter is helping Martine complete the sound design on her art film and they collaborate closely together, working in the studio off the pool house where Martine is staying. They develop a connection that is rare for Peter and necessary for Martine to finish her movie, but which begins to veer away from professional terrain. Each character in Nobody Walks experiences a surge of desire catalyzed by Martine's arrival, and everyone is forced to confront the new landscape that emerges in her wake. -- (C) Official SIte
People Who Like this movie also like
News & Interviews for Nobody Walks
Critic Reviews for Nobody Walks
Audience Reviews for Nobody Walks
½
In "Nobody Walks," Martine(Olivia Thirlby) travels to Los Angeles where she stays with Miriam(Rosemarie DeWitt), a psychologist and friend of a friend. Actually, her business is with Miriam's husband Peter(John Krasinski), a sound engineer, who is helping her with her artwork. Otherwise, everybody is busy. Kolt(India Ennenga), Miriam and Peter's teenage daughter, is ignoring Avi(Sam Lerner) in favor of nursing a crush on David(Rhys Wakefield) while she also takes Italian lessons. And Martine has her hands full with Billy(Justin Kirk), a particularly troublesome patient. "Nobody Walks" is a well-photographed film wherein I learned something about sound engineering for films. It also sports a very good cast, especially a usually underutilized Olivia Thirlby in the lead. It also has a sluggish pace. That might be to cover up how little it really has to say on the subject of how women are sexually harassed everyday. Part of that is due to a half-hearted approach that begins awkwardly enough with the opening sequence between Martine and a fellow passenger that because the movie joins them mid-conversation only serves to confuse matters. Plus, Martine is cast in the cliched role of domestic intruder, thus implying that some of it is actually her fault.
½
Co-written by Lena Dunham and director Ry Russo-Young, this is a little indie film that could have been something great, but is instead something greatly terrible. This artsy and poetic film is about Martine- a young woman who comes to L.A. to finish work on an experimental art film. She is staying in the pool house of Peter and Julie, who are helping her out as a favor to a mutual friend of theirs and Martine's. Peter is a sound designer whose expertise could prove invaluable to Martine's project. But, her arrival shakes things up more than expected, and it becomes a situation that no one will emerge from unscathed. I really wanted to like this film, because I thought it looked really engaging. Instead, this ends up being a slow, boring, meandering, and pretentiousness slog through a tedious melodramatic situation. It's artsy and poetic, but not really meaningful. It's adds up to basically nothing, and, for an 85 minute film, it's also got a really unnecessary subplot that could have been greatly condensed, if not axed completely. The film is well shot, yeah, I'll give it that, but it's ultimately hollow and pointless. The characters are all pretty much unlikable, but yet, I thought that the performances were actually okay, which is a shame since the movie itself is awful. It's good to see John Krasinski expand his range, but it sucks that this is now a part of his legacy. Same with Olivia Thirlby. I've always dug her, but this is an embarrassment. Rarely do I give reviews this negative, but I couldn't help it here. This was just a real disappointing chore to get through, and I really urge you to avoid it.
Chris Weber
Super Reviewer
½
An especially weak film without much substance, Nobody Walks is a dry and monotonous indie drama. The story follows a young filmmaker who comes to L.A. to collaborate on her film and disrupts the lives of the family that she's staying with. The plot doesn't go anywhere and has no point to it. Surprisingly there's a lot of talent in the cast, including John Krasinski, Olivia Thirlby, and Dylan McDermott. But despite the strong cast, there's nothing in the script to work with. Nobody Walks is an inane piece of trite that has no focus.
Dann Michalski
Super Reviewer
Nobody Walks Quotes
| | |
| --- | --- |
| Julie: | Want to talk about your little crush on our house guest? |
| | |
| --- | --- |
| Martine: | Peter is helping me with the sound. |