Dangan Ranna (D.A.N.G.A.N. Runner) (Non-Stop)
(1996)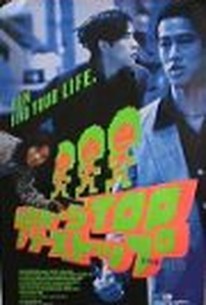 AUDIENCE SCORE
Critic Consensus: No consensus yet.
Movie Info
Keystone Cops meets Run Lola Run by way of Fight Club in this absurdist comedy-drama directed by up and coming Japanese filmmaker Sabu. Yasuda (Tomoro Taguchi) lives a life of perpetual humiliation: his meek, bumbling ways have made him the disgrace of the kitchen where he works and a failure in the eyes of his bouncy ex-girlfriend, who dumped him for a yuppie in an expensive suit. In a desperate attempt to retain some self-respect and dignity, the cook plots to rob a bank. Just before he strides through the bank's sliding glass doors, however, he realizes that he forgot one crucial thing -- a gauze face mask (often worn when one has a cold in Japan). He hurries to a nearby convenience store, only to find that it only stocks one in a child's size. Realizing that he also forgot his wallet, the increasingly panicky Yasuda pockets the mask, only to get caught in the act by a store clerk named Aikawa (Diamond Yukai) -- a crank-addicted rock singer whose career is rapidly going south. A tussle ensues, resulting in Yasuda winging the clerk in the arm. Completely terrified, the would-be bank robber drops his gun and flees the store, with Aikawa chasing after him looking for blood. Just as he is about to squeeze off a round at Yasuda's head, the clerk runs smack into Takeda (Shinichi Tsutsumi), a third-rate yazuka to whom Aikawa owes a stack of money and who inadvertently started a gang war through his own cowardice. Soon it becomes a three-man race through the streets of Tokyo, with the trio's collective sanity slowly starting to erode. Meanwhile, the dark clouds of gangland violence build around them until the film's dénouement. Dangan Runner was shown in the 2000 Shooting Gallery tour under the title Non-Stop. ~ Jonathan Crow, Rovi
Critic Reviews for Dangan Ranna (D.A.N.G.A.N. Runner) (Non-Stop)
All Critics (4) | Fresh (1) | Rotten (3)
Non-Stop ends in a flurry of ill-defined thugs pointing guns at one another in flimsily established face-offs, and none of it supports the story the film wants to tell.
"Non-stop" would appear to refer to the missed opportunities in this pale precursor to Tom Tykwer's "Run Lola Run."
Audience Reviews
There are no featured reviews for Dangan Ranna (D.A.N.G.A.N. Runner) (Non-Stop) at this time.
Dangan Ranna (D.A.N.G.A.N. Runner) (Non-Stop) Quotes
There are no approved quotes yet for this movie.