Nostradamus: 2012
(2009)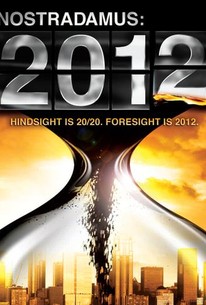 AUDIENCE SCORE
Critic Consensus: No consensus yet.
Movie Info
The doomsday warning of legendary prophet Nostradamus is placed in a terrifyingly modern context as documentary filmmakers speculate just what will happen on that fateful date of December 21, 2012. Nostradamus wasn't the only prophet to call attention to this oft-debated date; the ancient Mayans too predicted that the planet would undergo a profound transformation in the final days of the year 2012. But what exactly does fate have in store for mankind on the day many call the end? Will we be wiped out by a massive comet crashing into Earth, fall victim to a global environmental disaster, or perhaps fall victim to our own destructive technology in an Armageddon-like clash of civilizations? Perhaps it won't be anything destructive at all, but a kind of subtle transformation in consciousness. Whatever may come when the calendars turn to December 21, 2012, one thing is for certain: People around the globe will be watching the skies in tense anticipation of something truly profound.
Critic Reviews for Nostradamus: 2012
There are no critic reviews yet for Nostradamus: 2012. Keep checking Rotten Tomatoes for updates!
Audience Reviews for Nostradamus: 2012
The worst "documentary" ever made? Quite possibly. First of all the film is just concerned with scaring you. It might have worked if not for it's stupidity. These so called "experts" talk about how Nostradamus has predicted many events, but take his Quantro's as fact rather than individual interpretations. The film is also highly biased, there is nobody saying "the world will not end" or "Nostradamus' writings can be read anyway you want". It's just some weird lonely old men that actually believe this. It's also very repetitive, with the narrator repeating lines, just minutes after some author has said them. Some of the lines are absolutely hilarious in their stupidity. Worth watching if you like laughing at morons.
Luke Baldock
Super Reviewer
Nostradamus: 2012 Quotes
There are no approved quotes yet for this movie.