Now You See Me 2
(2016)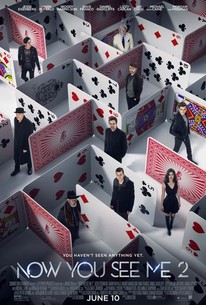 TOMATOMETER
AUDIENCE SCORE
Critic Consensus: Now You See Me 2 packs in even more twists and turns than its predecessor, but in the end, it has even less hiding up its sleeve.
Movie Info
THE FOUR HORSEMEN (Jesse Eisenberg, Woody Harrelson, Dave Franco, Lizzy Caplan) return for a second mind-bending adventure, elevating the limits of stage illusion to new heights and taking them around the globe. One year after outwitting the FBI and winning the public's adulation with their Robin Hood-style magic spectacles, the illusionists resurface for a comeback performance in hopes of exposing the unethical practices of a tech magnate. The man behind their vanishing act is none other than WALTER MABRY (Daniel Radcliffe), a tech prodigy who threatens the Horsemen into pulling off their most impossible heist yet. Their only hope is to perform one last unprecedented stunt to clear their names and reveal the mastermind behind it all.
News & Interviews for Now You See Me 2
Critic Reviews for Now You See Me 2
Audience Reviews for Now You See Me 2
The original "Now You See Me" had a riveting cat-and-mouse mystery plot going in. Aside from some cool visual effects and a delightfully villainous turn from one D-Rad, this sequel lacks a real story - one that doesn't talk down to the audience who already knows things that the characters don't. My greatest pet peeve is the half-assed feminist agenda. Lizzy Caplan is awesome, but in an effort to make Lula more than the redheaded eye candy Isla Fisher played in the prequel, the filmmakers settled for lightweight feminist rhetoric. Instead of the on-the-nose comeback of Lula petulantly calling Dylan out for being patronizing, couldn't they just SHOW her being a badass on a motorcycle? Couldn't they even just show ANYTHING from her pop-up magic show? It's all just lip service to the "strong female sidekick."
Alice Shen
Super Reviewer
An interesting plot but lacks the uniqueness and excitement as it's predecessor!
Film Crazy
Super Reviewer
The first Now You See Me was a pleasant surprise that took a simple concept (magician heist) and injected enough sly fun, style, and humor and made a memorable action thriller. As success demands, a sequel was commanded, but I had hopes considering the blueprint of its success could be repeated because those core elements were strong. We all love heist movies, we all love to be fooled, we all love to watch a smart people befuddle those in power, and the reveals made it even more enjoyable. I wasn't expecting Now You See Me 2 to drop much of what made the first film appealing and shamble through its set pieces with a disinterested sense of sequel duty. The magic is gone. The Four Horsemen magic act (Jessie Eisenberg, Woody Harrelson, Dave Franco, Lizzy Caplan) has made quite a few enemies. They're a group that attacks the fraud, exploitation, and greed of those rich and powerful who feel untouchable. This merry band of Robin Hoods is transported against their will to Macau, China by Walter Mabry (Daniel Radcliffe). Walter lost a lot of money from the Horsemen's antics in the first film and demands they steal a super microchip that will allow him to erase his identity and stay private permanently. Meanwhile, the Horsemen's handler, Agent Dylan Rhodes (Mark Ruffalo), is blackmailed by famous and currently incarcerated Thaddeus Bradley (Morgan Freeman). Bradley has a score to settle with the Horsemen and uses Rhodes to escape from prison. All forces are headed to Macau and much more will be learned of the Horsemen's behind-the-scene organization, The Eye. It feels like the filmmakers aren't even trying to keep one foot in reality this time. It's not like the first Now You See Me was a deeply grounded movie but it took pains to at least offer varying explanations for how these illusions were accomplished. Some of the answers were clever and some were preposterous, but at least they tried to show you their work, which made the Horsemen even cleverer, in my book. Understanding the preparation for the illusions and the execution of them adds to their impressive aura. The characters in the sequel don't even attempt to explain the far majority of their tricks, and it's simply not as fun. The opening job is a fun refresher because we see the different characters working together but also because we can see how they're getting away with their shenanigans. As the movie continues, those magic acts get bigger and bigger and more ludicrous and harder to explain and then the movie just stops trying to explain. At this point magic might as well be real and the Horsemen are wizards. There's suspension of belief and then there's simply obliterating all connections to reality. When Eisenberg can control the direction of rain itself without any explanation, it cheapens the thrill. Because if there isn't some level of limitations, requiring the tricks to be based in reality, then the on screen efforts lose their appeal because it doesn't matter. It's like haphazardly just writing, "The Horsemen do some magic junk and get away." It's just not as satisfying when it feels like the trick is ultimately on the audience. Another complaint I have is that the scattered script seems littered with missed opportunities. One of the bigger misses that comes to mind is Harrelson's twin brother, an obvious Matthew McConaughey impression from his True Detective costar. The character isn't nearly as funny as Harrelson or the producers believe. He isn't particularly memorable or necessary to the plot at all, but that's not even his biggest offense. In a movie about magicians playing sleight-of-hand trickery, how in the world do we not have a switcheroo with the twins? That would justify his existence for the plot. I was shocked this never happened because it seemed so obvious. Why is he a twin? What does being a brother to Harrelson have to do with anything related to the plot? The script also gets overcrowded with antagonists, introducing Radcliffe and then bringing back Michael Caine and Morgan Freeman. The characters don't so much compete with one another as they operate in separate spheres until a "twist" reveals more about their connections. Their agendas are too opaque. Radcliffe wants them to steal a super microchip so he can fully be "off the grid." A man of his means shouldn't have a problem with this. It's not like he's hiding out from the law for some kind of corporate espionage. It's a convoluted reason to bring the Horsemen to his hiding spot in Macau. It's just one in a long line of ideas that never feel fully developed. Even the magic set pieces don't feel as fun. Seriously, one of the climactic magic set pieces is a human game of three-card Monty. Director John M. Chu (G.I. Joe: Retaliation, Jem and the Holograms) has worked with action before and certainly knows his way around choreography, but he feels too hesitant this time. The action scenes are rare and the chase sequences are muted. Outside of the tricks, there isn't a standout action scene in the whole movie. In the first film we had a pretty fun magic fight that was wild and surprising and loaded with small payoffs. In this movie we have a motorcycle chase that plays out as expected. We have a foot chase that plays out as expected. You have professional illusionists at your disposal; action set pieces should not play out as expected. The most fun sequence is fairly straightforward but easily the best developed, and that's the Mission: Impossible-esque heist of the microchip that is outfitted onto a playing card. It's also clearly the most visually inventive sequence as the Horsemen play a game of keep away and the camera literally at times tumbles into their clothes. I think what makes this easily the best sequence in the movie is because it's moderately grounded, the stakes are explained, and the audience is in on the trick, enjoying all the flimflam obfuscation. It also means when there are complications to the plan the sequence generates suspense. When you don't know what's going on and don't know when things are going wrong, or how they could go wrong, it's hard to generate genuine suspense. Being involved in the action is much more fun. The actors all seem on autopilot, falling back to the broader descriptions for their characters. Eisenberg is a smug and cocky. Harrelson is smooth and shrewd. Franco is awkward and insecure. Isla Fisher is replaced by the capable Lizzy Caplan (TV's Masters of Sex) as the requisite Female Horsemen. She makes a good impression but part of it is that Capaln seems to be the only member allowed to be comedic. It feels like there are three straight guys to her comedy cut-up. She's good but without variation it also starts to lose its appeal when only one character seems to be trying. Ruffalo (Spotlight) seems too often unrelated the Horsemen story as he discovers more info about his father. He's the only character that actually has something of a storyline, though his playing of both sides and attempts to hide his role to the FBI is just another ludicrous element. I miss Melanie Laurent too. Now You See Me 2 (how could this not be called Now You Don't?) is a lackluster sequel that seems to have forgotten what made the first film the enjoyable caper that it was. Nate's Grade: C+
Nate Zoebl
Super Reviewer
Now You See Me 2 Quotes
| | |
| --- | --- |
| Walter Tressler: | Everyone has a button you push and they go blind. Yours was ego |
| Walter Tressler: | Everyone has a button you push and they go blind. Yours was ego. |