Observe and Report
(2009)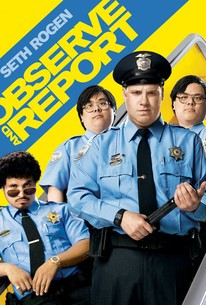 TOMATOMETER
AUDIENCE SCORE
Critic Consensus: Though it has a mean streak, and does not cater to all tastes, Observe and Report has gut-busting laughs and a fully committed Seth Rogen in irresistible form.
Observe and Report Photos
Movie Info
At the Forest Ridge Mall, head of security Ronnie Barnhardt patrols his jurisdiction with an iron fist, combating skateboarders, shoplifters and the occasional unruly customer while dreaming of the day when he can swap his flashlight for a badge and a gun. His delusions of grandeur are put to the test when the mall is struck by a flasher. Driven to protect and serve the mall and its patrons, Ronnie seizes the opportunity to showcase his underappreciated law enforcement talents on a grand scale, hoping his solution of this crime will earn a coveted spot at the police academy and the heart of his elusive dream girl Brandi, the hot make-up counter clerk who won't give him the time of day. But his single-minded pursuit of glory launches a turf war with the equally competitive Detective Harrison of the Conway Police, and Ronnie is confronted with the challenge of not only catching the flasher, but getting him before the real cops do.
People Who Like this movie also like
News & Interviews for Observe and Report
Critic Reviews for Observe and Report
Audience Reviews for Observe and Report
½
A clever yet uneven comedy that may be too downbeat for everyone's tastes as it raises sharp questions about our society with a lot of political incorrectness, but it is a pity that it remains only one step back from being truly hilarious, even though it does have its inspired moments.
Carlos Magalhães
Super Reviewer
At first glance an inevitable comparison to the Kevin James vehicle 'Paul Blart' springs to mind. To be fair you wouldn't be all that far off either, the whole basis for this film is very similar lets be honest. Both characters are working as security men in a mall and are wannabe cops. Both characters are portrayed as taking their job way too seriously when in reality they are merely shop attendants in a blue uniform. And both characters try to change their lives by applying for a job on the police force despite everyone thinking they haven't got a chance. So yeah its pretty similar, the only major difference is the fact Rogen's character in this film is more unhinged and eerily prone to violent anger outbursts. This of course can be hilarious at times with Rogen's great comic personality and chubby features, but at the same time its also a bit disturbing and uncomfortable too. There are plenty of scenes in this which made me laugh out loud, the way Ronnie (Rogen) organises his small team of security men with the up most importance, as if they were special ops. His awkwardness around sexy perfume saleswoman Brandi (Farris perfectly cast as your typical airhead blonde...again), the way he acts with jealousy around real cop Harrison (Liotta), his ongoing feud with Arab shopkeeper Saddamn and the way he exposes himself as slightly deranged, depressive and possibly dangerous to various people, especially in the police psychological examination. On the flip side there are times when the film feels ugly vicious a bit sad and over the top with the violence, profanity and blood. The sequence where Rogen's character takes Brandi out for a meal, she gets drunk and then they end up having sex, is rather dubious. Why? because Brandi is completely out of it and vomiting whilst Ronnie is banging her. It does seem a tad like rape, but at the same time the sight of Farris' head lurching to one side with puke on the pillow whilst Ronnie goes at it is amusing I can't deny, a nervous laugh there. There are other moments throughout which seem to go a bit too far also, showing 'Ronnie's' anger, the fight with the cops and Liotta's character, and the finale for the flasher. Its all kinda funny but kinda edgy too, at times you're thinking is it OK to laugh at this? Saying this is a dark comedy is an understatement, its darkly dark alright and Rogen's cynical, sinister, in your face performance will either leave you laughing, cogitating or hating. I think I prefer this over the Kevin James film simply because Rogen's performance is appealing to me here plus this film is more grounded ('Blart' goes down that 'Die Hard' route). The ending is a bit simple and anti climatic but its a totally fun and rather controversial ride to get there.
Phil Hubbs
Super Reviewer
I've heard somewhere that Observe and Report is Paul Blart Mall Cop in Quentin Tarantino style. Because I love Tarantino's style I thought I should check out the film. It was all right, funny at some parts, with a hilarious ending. Tarantino would've it done better, but the one who said it was his style mustn't have liked the master very much. Anyway, for me, Observe and Report was the American Hot Fuzz with less action and more obscene humor. The film was pretty average, but I liked it, it was good fun to watch. I like Seth Rogen, he was very good. This is the first movie I've ever seen Ray Liotta in, so I don't know what kind of actor he is, but he did a good job too. The main character is a mall cop (Seth Rogen), who wants to prove that he's better than everyone else thinks. He gets an opportunity when a flasher appears in the parking lot of the mall. He starts investigating, a cop (Ray Liotta) shows and some crazy things happen along the way. The film is good for those who like to hear many curse words, find sex jokes hilarious and aren't interested in good action. It wasn't a very good film, but certainly better than most movies of this caliber 3 stars 3-5-14
Bruce Bruce
Super Reviewer
Observe and Report Quotes
| | |
| --- | --- |
| Saddamn: | This man accused me of blowing up the Chik-fil-a. Why would I want to blow up the Chik-fil-a? It's fucking delicious! |
| | |
| --- | --- |
| Girl Employee: | Help my moms sexy ass puss mobile dance with light. I love oiled vagina lips against my titties. |
| | |
| --- | --- |
| Ronnie Barnhardt: | I love tango after midnight. |