Occupation
(2018)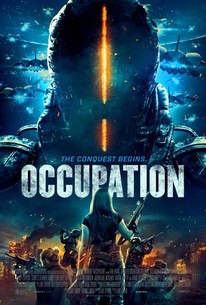 Movie Info
A town is suddenly plunged into darkness. In the sky, a fleet of spaceships appears. The aliens have been watching Earth for centuries; now they have arrived to seize control of our planet. As alien storm troopers cut a deadly swath through the countryside, a ragtag group of townspeople realize they must band together for a chance to strike back at the invaders in this explosive sci-fi film that grips from start to thrilling finish.
News & Interviews for Occupation
Critic Reviews for Occupation
Audience Reviews for Occupation
Poorly shot invasion film that has its heart in the right place but ultimately fails at being a cult film. You can only reward a film for ambition but when it fails to be the guilty pleasure it aspires to be, it's difficult to watch. The action scenes are a little generic and the scope of the film attempts to be much larger than the budget of the film, not a bad thing but it doesn't really work here. The acting is tough to swallow, they deliver lines that are cringe inducing, my friend was listening in another room and asked if I was watching Sharknado again, not a good thing for someone not watching the movie. I like guilty pleasure films but when I fall asleep twice and struggle to enjoy the film, I can't help but voice my frustrations. There was a concept here that would work and this is what is the most frustrating aspect of the film. I wanted to like this film and sadly it ends up like Battle Los Angeles did all those years ago. A B Movie concept that won't become that cult classic is attempts to be. Harmless movie that others might dig, sadly I could not. 05/08/2018.
Brendan Nicholls
Super Reviewer
Occupation Quotes
There are no approved quotes yet for this movie.