Ocean's 8
(2018)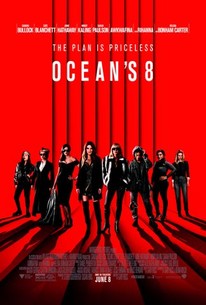 TOMATOMETER
AUDIENCE SCORE
Critic Consensus: Ocean's 8 isn't quite as smooth as its predecessors, but still has enough cast chemistry and flair to lift the price of a ticket from filmgoers up for an undemanding caper.
Movie Info
Upon her release from prison, Debbie, the estranged sister of legendary conman Danny Ocean, puts together a team of unstoppable crooks to pull of the heist of the century. Their goal is New York City's annual Met Gala, and a necklace worth in excess of 150 million dollars.
News & Interviews for Ocean's 8
Critic Reviews for Ocean's 8
Audience Reviews for Ocean's 8
SHE HATHAWAY ABOUT HER - My Review of OCEAN'S 8 (3 Stars) I totally support the GHOSTBUSTER-izing of Hollywood classics by recasting them with all-female leads in so much that I recognize that sometimes audiences just want to see their favorite stars skipping through a forgettable lark every now and then. So why not give us the distaff versions? Bring on LADY EXPENDABLES...which...upon reflection...sounded better in my head. I enjoyed the OCEAN movies for their sleekness, star power, and step-by-step heist instructions and OCEAN'S 8, from writer-director Gary Ross (THE HUNGER GAMES, PLEASANTVILLE), who co-wrote the screenplay with Olivia Milch, entertained me as much as the others. It's a smooth, shiny, night out at the movies, no more, no less. Okay, maybe a little less, as this entertaining trifle could have been shot through with a little more energy, tighter editing, and humor pass with a script rewrite. It settles for glamour and the mechanics of pulling off a heist, losing some much-needed zip along the way. The film opens on Sandra Bullock's Debbie Ocean (sister to George Clooney's character), incarcerated for years and pretending full rehabilitation at her parole hearing. Once sprung, her intentions crystalize as she pulls together a diamond heist she'd been planning all those years behind bars. As she gathers the troops, which include Cate Blanchett, Sarah Paulson, Mindy Kaling, Rihanna, Helena Bonham Carter, and Awkwafina (really funny), all of whom get their moments to shine, I couldn't help but think that Bullock, as the anchor, was giving what I call a Bruce Willis performance. Wan, detached, and kind of phoning it in, Bullock appears disengaged, choosing not to mine her delightful strengths that made her a star. It's odd considering this is a film more about star power than anything else. The heist, however, is everything, and thankfully, it's fun to watch it all come together. Without it, there's no film. They literally plan a robbery of a priceless necklace to be worn at the annual Met Gala, and then they execute that plan. The end. Sure, there are a couple of unexpected twists and turns, but this movie delights in, as the A-Team used to say, "loving it when a plan comes together". Luckily, this plan includes Anne Hathaway as the unsuspecting star, the hilariously named Daphne Kluger, who our gang manipulate into wearing to the ball. Hathaway demonstrates the best thievery in the film by completely stealing it. Her self-absorbed, sunny on the outside but dead on the inside character somehow manages to make an ensemble comedy all about her, and as an audience, we can't help but love her. Welcome back Anne! We Les Miz'd you! Despite the overall fun of the film, I noticed some missed opportunities, not only with a lack of strong jokes, but with giving Blanchett, who looks sensational, a little more to chew on, and there's a specific moment begging for Clooney that left me wanting for more. All told, OCEAN'S 8 proves serviceable, highly watchable, yet somewhat lackluster. Perhaps we've entered a low stakes, high glamour era in Hollywood filmmaking, but somehow the decision to remove the obstacles and just revel in the heist itself works here. Bonus points for Daniel Pemberton's memorable, mid-century style score. This is old Hollywood glitz at its best. Too bad Bullock didn't quite get the memo.
Glenn Gaylord
Super Reviewer
The Ocean's movies, with the exception of the too-cool-for-school 12, have glided by on their charm, style, and a knack for having fun with cool characters and satisfying twists and turns. After 2007's rebounding Ocean's 13, it looked like the franchise was going back to dormancy, and then writer/director Gary Ross (The Hunger Games) resuscitated it with an all-female team, following the exploits of recently paroled Debbie Ocean (Sandra Bullock). Like her (recently deceased?!) older brother, Debbie has a big score in mind, the New York Met Gala, but more specifically a $150 million diamond necklace to be worn by self-involved acting starlet, Daphne Kluger (Anne Hathaway). Debbie gathers a team of specialists and, with the help of he best friend Lou (Cate Blanchett), the assembled eight schemes to get rich off the neck of Ms. Kluger. Like its predecessors, this movie glides on by thanks to fun characters to root for and a fun heist that packs enough setups, payoffs, and reversals. The heist formula demands a protracted setup but this gives way to a bevy of payoffs, when done correctly, and even more payoffs when complications must be dealt with in a rapid time. Each of the ladies get a significant part of the heist, though not all of them have the same level of memorable involvement in the movie itself. Ocean's Eight is a slick crime fantasy given a feminine twist, dipping into gaga fashions, killer jewelry, and celebrity worship. Bullock is a strong lead but it's Blanchett that won my heart, so confidant in her wardrobe of striking men's wear. Hathaway is a cut-up as a flaky actress needing constant validation. Part of the allure of the movie, and the heist itself, are the high-end clothes and accessories. Its prime escapism for the target audience to "ooo" and "ahhh," as my theater did. Ross follows the house style of Steven Soderbergh closely with lots of tracking shots, zooms, and a consistent sense of movement. The pacing is swift and thankfully there's a significant resolution after the heist that still finds time for even more payoffs. It's not quite on par with the original, but I'd declare Ocean's Eight the best of the sequels. It's fizzy fun, but what happens if there are three more of them? Nate's Grade: B
Nate Zoebl
Super Reviewer
Eight? Why eight? As a sequel to Ocean's Eleven, Ocean's Twelve, and Ocean's Thirteen, you'd think that the next logical title for the next film would be Ocean's Fourteen. Perhaps they realized that having fourteen main characters would be quite a mess, or perhaps this is a new method of subverting audience expectations. Anyways, Ocean's 8 is a (sort of) sequel to the popular Ocean's trilogy directed by Steven Soderbergh and starring George Clooney, Matt Damon, and Brad Pitt. It was a release that I was looking forward to, and it's one that hits some of the spots that I was hoping for but missed the mark in others. Ocean's 8 is a heist film directed by Gary Ross, with Steven Soderbergh in the producer's position this time around. It features a marvelous all-female ensemble cast consisting of Sandra Bullock, Cate Blanchett, Anne Hathaway, Helena Bonham Carter, Mindy Kaling, Rihanna, Sarah Paulson, and Awkwafina. This introduces my most obvious point: I was incredibly satisfied with the performances given in the film. Sandra Bullock, my favorite actress, plays the lead character, Debbie Ocean, and delivers a performance that characterizes someone who is sly, devious, cunning, cool, and lovable all at the same time, much like George Clooney did in the original trilogy. Each of the other actresses brings something unique and charming to the table: Cate Blanchett brings intensity and logic, Anne Hathaway brings sassiness and "diva-ness", Helena Bonham Carter adds quirkiness to the mix, Mindy Kaling brings her trademark comedy, Rihanna brings a surprisingly cool and likeable presence, and Sarah Paulson brings some extra lovability and smarts to the team. Awkwafina's character was the only one that felt out underdeveloped and uninteresting compared to the rest. However, as a whole, the team assembled in Ocean's 8 is fantastic and very easy to get behind. Like the Ocean's trilogy, each character has their own unique set of skills and personality that makes for an effective on-screen team. The bottom line is, they all work well together. The fact that Ocean's 8's team is assembled so well earns the film major points. The next thing to check on the list is the storyline, something that is essential to any heist film. Anyone who is familiar with the work of Steven Soderbergh probably knows the aforementioned Ocean's trilogy fairly well and may also have seen 2017's Logan Lucky (highly recommend that one, by the way). Those who have seen those films probably know that the plot follows a very tried and true formula: main character wants to pull a heist, main character assembles team, team prepares for heist, team executes heist, team runs into small problems during heist, team succeeds in heist, team lives happily ever after. Thrown into the formula are personal grudges that the main character has against someone that makes the heist a personal vendetta. Ocean's 8 very closely follows this formula, which is both a good thing and a bad thing. On the good side, the formula has been used so many times that filmmakers have realized how effective it is. And that holds true here: this formula makes the film entertaining and keeps the pacing fast and fun. On the bad side, the formula has been used so many times that it is now predictable and worn. And that also holds true here: I felt like I had watched this movie many times before, making it less exciting than it could have been. I have more nitpicks with Ocean's 8, which again deal with the plot of the film. Like I already mentioned, it follows the standard heist formula that we're all accustomed to by now. Part of that formula involves setting up some sort of conflict that complicates the narrative. Personally, I've never been a huge fan of this technique, because, for me, it adds extra "fluff" to the film that isn't necessary. Ocean's 8 doesn't make any real attempts at doing this. Now, based on what I just said, you might think that this is a good thing. However, as a result, everything that happens in the film just seems so... easy! Every time the team runs into some sort of complication in preparing for the event, they call some random side character that fixes it. Whenever something goes wrong in the midst of the heist, things somehow resolve themselves with little issue. This made the film's execution feel much less satisfying, and I felt cheated at the end because of the lack of tense moments or nail-bitingingly-close calls. Those things are essential to a heist film, and Ocean's 8 just didn't have that. This becomes even more apparent at the film's conclusion, which brings up my final nitpick: Ocean's 8 ends in a mess. So many things happen in a short amount of time: characters are introduced, people reveal secrets or hidden motivations, subplots are introduced and then quickly resolved... it was very scatterbrained writing. Perhaps I'm picking apart Ocean's 8 more than I should be. Besides, it's meant to be a fun, enjoyable heist film populated with famous actors, high(ish) stakes, lots of cool planning and technology, celebrity cameos, and a stylish heist. On those fronts, Ocean's 8 succeeds marvelously. And, despite my criticisms of the film, I thoroughly enjoyed the film. Still, the problems that the film had prevented it from being anything particularly memorable and made it less than the worthy successor that the Ocean's trilogy deserved. I strongly considered giving Ocean's 8 2 out of 5 stars, but I have to remember that I still had fun in the theater and was never bored. So, I'm confident in my decision to give Ocean's 8 a modest 3 out of 5 stars.
Paul Fuchs
Super Reviewer
Ocean's 8 Quotes
There are no approved quotes yet for this movie.