On Deadly Ground
(1994)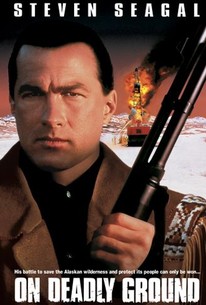 Movie Info
Action star Steven Seagal makes his directorial debut in this environmentally conscious actioner. He also stars as a former government operative who heads into the Alaskan wilderness to protect land sacred to the Eskimos from the rapacious dealings of an oil company executive.
Critic Reviews for On Deadly Ground
Audience Reviews for On Deadly Ground
½
"On Deadly Ground" is definitely not one of Steven Seagal's best movies. In this movie, he stars as an oil rig worker who is environmentally concerned, and he ends up going against his employer who is searching for him. "On Deadly Ground" does have a plot, but not that great of one and that's really where the movie suffers. If it would've had a better storyline, it could've been a great movie. The action and fighting sequences in the movie are well done. It also has good special effects. The scenery in the movie is another good thing about it with the snowcapped mountains all through the movie. All in all, "On Deadly Ground" does have some mildly entertaining action sequences, but overall it's just an average movie. I'd recommend getting other Steven Seagal movies such as either one of the "Under Siege" movies before I'd recommend getting this one. NOTE: That was my Amazon review from the year 2001.
Jason Owens
Super Reviewer
An environmental message wrapped up in a typical Seagal movie. Michael Caine is in this, but then again so are half the movies ever made and he still manages to put in a great performance as the heartless and overall asshole Michael Jennings. This has a good cast in it and means well, but that doesn't always equal a great movie.
Derek Daniels
Super Reviewer
Oh Michael Caine...I guess everyone needs a little coke and whore money.
Ken Stachnik
Super Reviewer
On Deadly Ground Quotes
| | |
| --- | --- |
| Homer Carlton: | You better watch it, sweetheart. Talk like that'll get you killed. |
| Homer Carlton: | You better watch it, sweetheart. Talking like that'll get you killed. |
| | |
| --- | --- |
| Stone: | My guy in D.C. tells me that we are not dealing with a student here, we're dealing with the Professor. Any time the military has an operation that can't fail, they call this guy in to train the troops. He's the kind of guy that would drink a gallon of gasoline so he could piss in your campfire! You could drop this guy off at the Arctic Circle wearing a pair of bikini underwear, without his toothbrush, and tomorrow afternoon he's going to show up at your pool side with a million dollar smile and fist full of pesos. This guy's a professional, you got me? |
| | |
| --- | --- |
| Hugh Palmer: | You use to be a good man Forrest. Now, you're nothing but a whore! |
| Forrest Taft: | For $350,000, I'll fuck anything once! |
| | |
| --- | --- |
| Forrest Taft: | Anybody else want to play with cupcake? |
Discussion Forum
Discuss On Deadly Ground on our Movie forum!