On Her Majesty's Secret Service
(1969)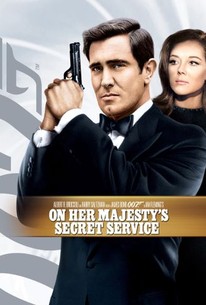 TOMATOMETER
AUDIENCE SCORE
Critic Consensus: George Lazenby's only appearance as 007 is a fine entry in the series, featuring one of the most intriguing Bond girls in Tracy di Vincenzo (Diana Rigg), breathtaking visuals, and some great ski chases.
On Her Majesty's Secret Service Videos
On Her Majesty's Secret Service Photos
Movie Info
Connery's decision to quit as Bond left Broccoli and Saltzman with a headache. The press went into overdrive speculating on Connery's successor; while the producers chose good-looking Australian actor George Lazenby after successful screen tests. Avengers superstar Diana Rigg was brought in as an added lure and the resulting action-packed film ensured that the franchise would continue.
News & Interviews for On Her Majesty's Secret Service
Critic Reviews for On Her Majesty's Secret Service
Audience Reviews for On Her Majesty's Secret Service
Sean Connery retires from the 007 role and incomes Australian model-turned-actor George Lazenby to fill in his massive shoes. Does he succeed? OHMSS was the first in the franchise to attempt the depiction of a more-vulnerable James Bond and this movie also breaks one of the franchises biggest cliches at this point...James Bond gets married to the Bond girl! This movie has a lot of good things going for it. The cast is very well-rounded. Diana Rigg plays Tracy, daughter of a mobster and the woman that Bond falls in love with, and she is fantastic. Equally fantastic is Telly Savalas, who replaces Donald Plleasence as Bond's arch nemesis Blofeld. I think Savalas is my personal favorite actor to play Blofeld because he feels more like a person that can exist in real life. The ski-chase action set pieces are also a joy to watch and first-time director Peter R. Hunt does a pretty decent job, at times giving the proceedings a very 60's trippy vibe. Not only that, but John Barry offers some of his best music compositions for this entry. It's just a shame about Lazenby though. Lazenby's lack of acting experience really sticks out like a sore thumb and in a way, perfectly demonstrates the fact that playing 007 is not as easy of a feat as one might expect. Despite having a decent chemistry with Rigg, Lazenby's performance just left me cold due to his lack of one-screen presence and it doesn't help that most of his dialogue was awkwardly dubbed in post-production due to his heavy Australian accent. The only time Lazenby displays any sincere acting chops is in the film's heart-breaking ending. Despite Hunt showcasing decent prowess for a first-time director, his weakness lies in filming hand-to-hand fight sequences because the editing gets so choppy and the bizarre camera angles really brings unintentional comedy to some fights scenes. Also this movie was just way too long for me and could have used a better editor at the helm because I found myself bored a few too many times, especially during the drawn-out second act in which James Bond is undercover in Blofeld's lair. In the end, a part of me deeply admires how much this film attempted to shake things up with the franchise but in the end it's unique elements never end up combining into a satisfying whole.
Christopher Heim
Super Reviewer
Overlong, choppily edited, helming sloppy action, and a plot that is very preposterous and far too self-aware, "On Her Majesty's Secret Service" is is a very weak entry in the bond canon, although it arguably has some of the best sequecnes. After a string of five very original stories, the fans get this, which completely goes against the personality of it's lead character. George Lazenby is not a terrible actor, but he is a terrible choice for James Bond. The previous films focussed on one Bond girl, when in this film, I swear I counted at least 10. The pacing is ridiculous and the plot sometimes makes no sense. Sure, the filmmakers work with what they had, which was a horrible crew. This film is the epitome of a series low. "On Her majesty's Secret Service" is a serviceable flick for fans, especially for the action, but it is quite the letdown in other regards. I will give it some slight props for their effort though.
½
Faced with the necessity of breaking in a new 007 following the departure of Sean Connery, the producers wisely opted for a back-to-basics Bond movie, eschewing most of the ludicrous excesses evident in You Only Live Twice. Gone, at least for the time being, were production designer Ken Adam's cavernous sets, along with the increasingly silly gadgetry.

That the film failed to find much of an audience at the time of release - the reasons for which I'll come to in a moment - can only be classed as a great shame, not least for the genuine Bond fan, as Broccoli and Saltzman backslid furiously and Connery picked up where he'd left off, before passing the baton to Roger Moore, who cheapened the character by chiefly playing him for laughs. Consequently, in the 37 years separating OHMSS and Daniel Craig's revitalisation of the character in Casino Royale there were only a couple of high points in the series, and - surely not coincidentally - each corresponded with a similar back-to-basics agenda. The first of these was the curiously unloved For Your Eyes Only, which notwithstanding its risible prologue and epilogue is the purest Bond film Moore ever made; the second, Timothy Dalton's superb début in The Living Daylights.

OHMSS's failure, perhaps unsurprisingly, was due in no small part to George Lazenby, though not for the reason one might expect, namely his performance. The problem with Lazenby was a perceived cockiness and lack of humility that got up the noses of his seasoned cast and crew mates and had the film critics sharpening their knives before nary a foot of film was in the can. Giving him the benefit of the doubt, I dare say much of this was a combination of youthful high spirits and naivety, however the damage was done and the finished film was roundly savaged in the press. As one would imagine, Lazenby was compared unfavourably with Connery, as ever other actor who plays the part continues to be to this day, though I, for one, couldn't disagree more with this assessment. Frankly, Connery was visibly bored with Bond, charmlessly sleepwalking his way through both Thunderball and You Only Live Twice. Furthermore, there is an aura of invincibility about Connery's Bond that precludes one's becoming overly fearful for the character's safety, even with a laser beam trained on his testicles, whereas for all his powerful physique and obvious athleticism, there's an appealing vulnerability to Lazenby's Bond that produces a couple of startling moments in which he resembles a lost little boy in need of a cuddle. Simply put: yes, he's not nearly as good an actor as Connery, but Connery could not have played this Bond this well in this film.

Not only was Diana Rigg's poor-little-rich-girl the first Bond girl of any real substance since Daniela Bianchi's Tatiana in From Russia with Love - and perhaps the last until Eva Green's Vesper Lynd in Casino Royale - she's still arguably the best of an admittedly shallow bunch, her combination of strength and vulnerability complimenting her co-star's perfectly. Without being either as creepy as Donald Pleasance's or as suavely menacing as Chales Gray's, Telly Savalas' Blofeld still manages to be definitive, not just because he plays him straight and with restraint, but because he brings to the role a brute physical presence the others lack; one senses, for once at least, here's an adversary who might give our hero a run for his money in a fistfight. Elsewhere in the casting, From Russia with Love appears to have been a definite reference point, with Ilse Steppat's Irma Bunt echoing Lotte Lenya's Rosa Klebb and Gabriele Ferzetti channelling Pedro Armendáriz's Kerim Bey as Draco.

All things taken into consideration, this is probably the second best movie of the entire series after From Russia with Love. Don't listen to the haters!
On Her Majesty's Secret Service Quotes
| | |
| --- | --- |
| Draco: | <After Bond throws a knife near him and hits his calender on the 12th of the month> But today is the 13th... |
| Draco: | But today is the 13th. |
| James Bond: | I'm superstitious |
| | |
| --- | --- |
| James Bond: | This never happened to the other fellow |
| James Bond: | This never happened to the other fellow. |
| | |
| --- | --- |
| James Bond: | Thank you, Q, but this time I've got the gadgets and I know how to use them. |
| | |
| --- | --- |
| Blofeld: | No no no, Mr. Bond. Respectable baronets from the College of Heralds do "not" seduce female patients in clinics. On the other hand, they do get their professional details... "right". The De Bleauchamps tombs are "not" in the Augsburg Cathedral as you said, but in the Ste. Anna Kirch. Sir Hillary Bray would have known! |
| Blofeld: | No no no, Mr. Bond. Respectable baronets from the College of Heralds do 'not' seduce female patients in clinics. On the other hand, they do get their professional details... 'right'. The De Bleauchamps tombs are 'not' in the Augsburg Cathedral as you said, but in the Ste. Anna Kirch. Sir Hillary Bray would have known! |
Discussion Forum
Discuss On Her Majesty's Secret Service on our Movie forum!