Once Upon a Mattress
(2005)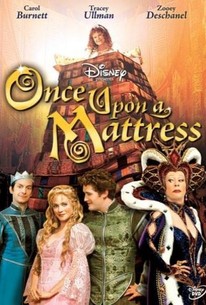 AUDIENCE SCORE
Critic Consensus: No consensus yet.
Once Upon a Mattress Photos
Movie Info
A love-sick nobleman seeking to marry his sweetheart does his best to find his ruling prince a suitable bride so that he himself may wed in this screen adaptation of the popular Broadway musical +The Princess and the Pea. No one in Prince Dauntless (Denis O'Hare)'s kingdom is permitted to marry until the prince himself exchanges vows -- a problem hindered by the fact that the prince's overprotective mother, Queen Aggravain (Carol Burnett), has thus far thwarted all efforts to marry her son. This does not sit well with the honorable Sir Harry, a man whose heart longs to wed the fair Lady Larkin (Zooey Deschanel), and after a long and arduous journey specifically designed to find the prince a bride, Sir Harry returns to his kingdom to present Princess Winnifred of the swamps (Tracey Ullman). Immediately stricken by the princess, Prince Dauntless sets into motion plans for a lavish wedding as his scheming mother cooks up a test that's sure to send his marital plans awry.
Critic Reviews for Once Upon a Mattress
All Critics (3) | Fresh (0) | Rotten (3) | DVD (3)
I'd only recommend it if you feel you'd like fluffy made-for-TV musicals.

...ultimately overlong and forgettable, despite the best efforts of an exceedingly game cast.

pretty harmless and almost wholly unmemorable, but considerably better than a lot of animated junk that's passed off as kiddie fare.

Audience Reviews for Once Upon a Mattress
Dynastically Problematic I saw this onstage once, years ago at the Tacoma Little Theatre. My sister used to work there when I was first living in Washington, and though I don't know remember why, I was there one day when they were performing this show. It's about the only thing I know for sure that I saw there, and the other--[i]A Little Night Music[/i]--had nothing to do with Elaine; I took myself for my birthday, because it was playing around my birthday and I had no better plans. I think I was usher for [i]Once Upon a Mattress[/i], though. I do remember that their princess was doing her very best Carol Burnett, because that's who originated the role on Broadway in 1959. I suspect that this is one of those shows that gets done by community theatres a lot; it's probably available relatively cheap, and it's relatively simple to stage. There are also plenty of minor roles so you can fill the audience with people's families. Prince Dauntless (Denis O'Hare) wants to get married. However, his mother, Aggravain (Burnett herself), will not let him marry anyone who cannot pass a test to prove that she's a princess. Lady Larken (Zooey Deschanel) is in despair, because no one else is allowed to marry until Prince Dauntless does--and Lady Larken is pregnant by Sir Harry (Matthew Morrison). So Sir Harry goes off on a quest and brings back Princess Winnifred (Tracey Ullman) of a kingdom to the north. Queen Aggravain hasn't been best pleased with any of the offerings so far, but this? She swims the moat! Dauntless falls in love, but Aggravain conspires with her wizard (Edward Hibbert) to devise a test that Winnifred will be certain to fail. She will test the thing that she is most certain Winnifred doesn't possess--her sensitivity. She will try the old "pea under twenty mattresses" test. But surely that's just a story, and surely this princess, too, is doomed to fail the test! There is no delicate way to put this. Tracey Ullman was too old for the role. Yes, she was born the year the show opened on Broadway, but let's face it--that means she was forty-six when this version was filmed. She's three years older than Denis O'Hare, who looks his age. She's still sprightly and energetic, and she doesn't look as though she's about to fall over during the various dance numbers, no matter how up-tempo they are, but she is still obviously old enough so that the succession would be far from certain. They don't do a lot of close-ups, but every time they do, you can see the lines. She still looks great, and I'm not trying to say she doesn't. I'm certainly not trying to say she should have been Aggravain instead, though from a historical perspective, it would have been more accurate. I'm saying I wouldn't have cast her in the thing at all. Carol Burnett is pulling off middle aged, but Tracey Ullman doesn't pull off young. It's almost as though they decided to balance the royals' ages without worrying about whether they should. I never feel entirely comfortable with why Aggravain doesn't want Dauntless to get married, either. Winnifred gets a line toward the end about how they'll go find their own kingdom and not live with the in-laws, but of course that's ridiculous. Dauntless is an only child, and he'll stay home and await his chance to take the throne of his father, King Sextimus (Tom Smothers). And sure, maybe Winnifred will take more of his time than Aggravain would like, but the kind of woman who is that doting on a son is often thrilled at the prospect of grandchildren. Her motivation never seems to work. Either it should be expected that Sextimus will retire and give Dauntless the throne or else she should be afraid that being a grandmother will make her seem old. Just wanting all of Dauntless's attention is kind of creepy, and anyway Burnett's version of the character only gives the impression that it's what's going on in one brief musical number. I mean, it's charming enough if you manage not to think about all of this. The music is decent, if not great. Satirical takes on fairy tales can be a lot of fun. The bit about the mute king is fun, if unnecessary, and Michael Boatman does a fine job as the jester. However, I almost think this is the kind of show that most needs a live audience. Humans react better to things in groups. You're less inclined to laugh at something if you're alone than if you're with other people. And, yes, from the back of an auditorium, who's going to notice a few lines? I'm not going to tell you not to watch it, especially if you're a Carol Burnett fan--or even a Tracey Ullman fan. Heck, Tom Smothers even fools about with a yo-yo at one point, if that's the sort of thing that interests you. Nothing spectacular, but there it is. Still, I found the whole thing a bit of a disappointment. I'd much rather the library had the version Carol Burnett herself did on TV in 1964 before a live studio audience. Sometimes, the catalog just has regrets.
Edith Nelson
½
I was in this play in high school so I picked it at the library. I thoroughly enjoyed Disney's version! The songs are so fun and the actors did a fabulous job, especially Carol Burnett! The costumes were fantastic and the sets were beautiful. What an adventure!
Dannielle Albert
Super Reviewer
A cute movie with fun songs and with Matthew Morrison in the mix, it also felt like watching a Glee episode. Overall a good time.
Sarah Prisbylla
Super Reviewer
Once Upon a Mattress Quotes
There are no approved quotes yet for this movie.
Discussion Forum
Discuss Once Upon a Mattress on our Movie forum!