One Million Years B.C.
(1967)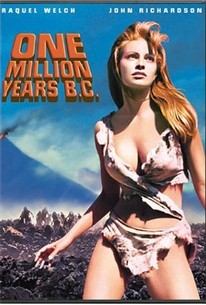 Movie Info
Essentially an anti-war allegory, this story centers on Tumak, a member of the warlike Rock People. Following a fight with his father, Tumak is exiled into the desert. The gentle Shell People find him and kindly take him in. Unfortunately, Tumak is unable to control his aggressive tendencies.
Critic Reviews for One Million Years B.C.
Audience Reviews for One Million Years B.C.
That film with that poster, of course you know what I mean. Actually a remake of a film with the same name from 1940 and keeping many sequences the same. In turn this film does also seem to be the influence behind big Roland Emmerich flop '10,000 BC'. This was my first time seeing this Hammer classic and I must say I was completely surprised. The film starts out kinda like the sci-fi classic '2001' accept we don't have ape men but cavemen. A tribe of cavemen running around fighting, squabbling and hunting mammals, there is no dialog accept for grunts and basic gestures. I did actually think this was just the opening of the film showing a flashback/setting the plot or something, at no point did I think the entire film was gonna be like this haha colour me shocked!. So yeah straight away I must give kudos to the creative team behind the film for the hugely bold and brave move of making an entire film in 'native caveman' grunts. Just the occasional caveman name is all you get here folks, followed by lots of 'ug's'. The plot is as simple as the grunts you constantly hear. Basically its about two tribes, one being a very aggressive, dirty, scruffy, dark haired bunch and the other being a much fairer, cleaner looking, advanced, civilised blonde bunch. Almost as if one tribe was from the UK and the other was from Scandinavia heh. One caveman is rejected from the dark haired tribe and goes walkabout, avoiding many dangers he ends up finding the blonde tribe and falling for the ultimate cavewoman Raquel Welch. Again this rough caveman is rejected from the tribe (for being too aggressive I think) and again he goes walkabout but with Welch in tow, more dangers follow. This film NEVER pretended to be realistic, not in the slightest, its a complete fantasy from start to finish with maybe the odd spot of realism touched upon (locations seem quite realistic). There are many issues of course that are completely stupid but is there really any point in me referring to them?. It did amuse me how almost every cavewoman is hot, not just Welch (And since when do cavewomen wear fur bikin...never mind). Most of the young ones are firm, fit, slim, clean looking, big bosomed with long flowing hair. Where as the men are all ugly, overly hairy, a bit porky and rather dirty looking, god knows what the women see in them. Dark haired tribe are bad/primitive, blonde haired tribe are good/civilised, typical fantasy stuff really, black being bad, white being good...colour of costumes normally I mean. You could almost say the dark haired tribe were like trolls and the blonde haired tribe like elves. The big draw in this film (apart from Welch's perfect tanned body) is of course the Harryhausen Dino effects. Easily some of the best enjoyable action we've seen from Harryhausen, the highlight for me being the excellent battle between a Ceratosaurus and a Triceratops. Not only does it look fantastic but the movement of the creatures does seem really very realistic, clearly a lot of study went into how they could of actually moved. The other fun stop motion moment for me was the giant turtle simply because it looked awesome and kinda friendly. Strange how the film incorporates two sequences of real creatures superimposed onto the live action. Didn't like that idea (looking at you Ray) as it mixes two types of fantasy flick concepts. Usually these films are either one direction or the other for their creature effects, real or stop motion. To use the two makes the film seem a bit messy to me, as if there was indecision, plus the two methods simply don't look right together. A small gripe but not too much of an issue...accept for the giant tarantula, eh?. This could of been quite a smart sensible realistic epic had they taken the more accurate approach. Instead they opt for the outlandish fantasy element which is cool don't get me wrong, but at the time this film was made this genre was pretty heavily flooded with similar films. The plot can be hard to follow in places due to the fact there is no spoken English and it does feel as though some ideas weren't fully developed (the hairy ape men sequences spring to mind). Not without its flaws that's for sure but still a unique film, I think without Harryhausen's skills the film would have been incredibly dull. Pure overblown comicbook fluff that has gone down in modern pop culture much like other fantasy films 'Flash Gordon' and 'Barbarella'. I don't think we'll ever see another film where a cavewoman has as much makeup and hair products on as the gorgeous Welch. Utterly ludicrous of course, but holy Stegosaurus turd Batman!...she was damn cute back then.
Phil Hubbs
Super Reviewer
Dispite several flaws and become an unintended comedy, One Million Years B.C. it's one of the most remarkables and likable 'caveman era' that I ever saw. Without forget the classic special effects.
Lucas Martins
Super Reviewer
While perhaps historically inaccurate here is still a rousing imaginative adventure take on what really old school may have been like Edgar R. Burroughs style. Harryhausen animation does nice background work as usual and the young buxom Ms. Welch's loincloth bikini does the rest in this fantasy about the savage beginnings of social networking pre- Facebook. Fun.
Kevin M. Williams
Super Reviewer
One Million Years B.C. Quotes
There are no approved quotes yet for this movie.