Ossessione
(1943)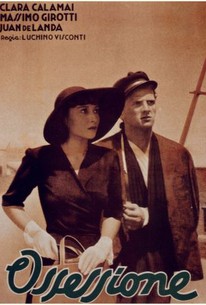 Movie Info
Memorable adaptation of James M. Cain's The Postman Always Rings Twice to the milieu of early-1940s Italy. A drifter becomes involved with the wife of a small-town innkeeper, and the two decide to murder her husband. Italian neo-realist filmmaking originates with this harsh, powerful drama, the first film by director Luchino Visconti.
Critic Reviews for Ossessione
Audience Reviews for Ossessione
½
Visconti's directoral debut is a cinematic milestone both in noir and neo-realism. Brilliant adaptation of The Postman Always Rings Twice, depicting the descent of two lonely souls into lust, avarice, and desperation. The use of light and shadow emphasize the character development. The finale is one of the most ironic scenes in film history (omitted from the american versions).
Stefanie C
Super Reviewer
½
Massimo Girotti is the handsome young drifter who falls for the beautiful wife (Clara Calamai) of a roadside restauranteur. Through a progression of lust, adultery, envy and obsession we witness the spiraling decline of morality and the untimely death of one unsuspecting husband. Viewed with an 'American eye', Ossessione seems a bit long-winded and meandering but Visconti's telling is nothing short of remarkable. The director's command of light and camera angles enables him to set a dark mood that is as much a tangible presence as any of the film's characters. A tragic tale masterfully told.
Randy Tippy
Super Reviewer
½
Wow, made in Italy in 1943, smack in the middle of WWII - this movie is fiendishly great - sucks you right in. Also, was this Massimo Girotti fellow ever on a Smiths cover? Cuz he freakin should have been. Great exterior street scene shots - w/ wonderful fluid camera movement.
Bob Stinson
Super Reviewer
Ossessione Quotes
There are no approved quotes yet for this movie.