Out in the Dark
(2013)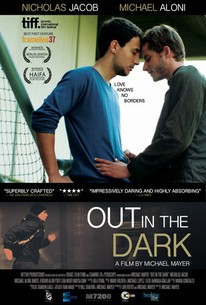 Movie Info
Nimer (Jacob), an ambitious Palestinian student in the West Bank, dreams of a better life. One fateful night in Tel Aviv, he meets Roy (Aloni), an Israeli lawyer, and the two fall in love. As their relationship deepens, they are both confronted with the harsh realities of a Palestinian society that refuses to accept Nimer for his sexual identity, and an Israeli society that rejects him for his nationality. When Nimer's close friend is caught hiding illegally in Tel Aviv and sent back to the West Bank and a terrible fate, Nimer is forced to choose between the life he thought he wanted and his love for Roy. (c) Official Site
News & Interviews for Out in the Dark
Critic Reviews for Out in the Dark
Audience Reviews for Out in the Dark
Out in the Dark is easily the most politically important film on my list, and it is with good reason. This Israeli romance film depicts the cultural boundaries of Israeli-Palestinian laws, such as their anti-gay laws and the corrupt ways in which they murder gay men in the Middle East. We first meet Nimr, a Palestinian student studying psychology and attempting to legally acquire a visa to attend a university in Israel. One night, Nimr escapes to a gay bar where he meets a seductive Israeli lawyer named Roy. They spend the night talking, exchange numbers, and are eventually able to meet again after Nimr acquires his student visa. The Middle East feels like a haunting character all its own due to its violent, homicidal laws and hate-groups against gay men. It is for this reason that Nimr and Roy proceed with discretion and cautiousness as they fall deeper and deeper in love. It is not long before outside forces surge against them, and the two fight for what they believe they deserve to the very end. It is passion, painful, and at utmost a noble film. The political standpoints portrayed in the film are frustrating and angering, allowing one to appreciate the freedom we have in retrospect.
½
From a thematic standpoint this is an always interesting film, but as a narrative it is heavy-handed and ridden with clichés and tacky dialogue - and its romance never feels natural or involving but only contrived and mechanical, with a terrible performance by Nicholas Jacob.
Carlos Magalhães
Super Reviewer
Out in the Dark Quotes
There are no approved quotes yet for this movie.