What to know
critics consensus
Pacific Rim Uprising won't win any points for subtlety or originality, but it delivers enough of the rock 'em-sock 'em robots-vs.-kaiju thrills that fans of the original will be looking for. Read critic reviews
You might also like
Transformers: The Last Knight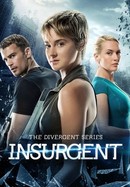 The Divergent Series: Insurgent
Rate And Review
Pacific Rim Uprising Videos
Pacific Rim Uprising Photos
Movie Info
Jake Pentecost is a once-promising Jaeger pilot whose legendary father gave his life to secure humanity's victory against the monstrous Kaiju. Jake has since abandoned his training only to become caught up in a criminal underworld. But when an even more unstoppable threat is unleashed to tear through cities and bring the world to its knees, Jake is given one last chance by his estranged sister, Mako Mori, to live up to his father's legacy.
Critic Reviews for Pacific Rim Uprising
Audience Reviews for Pacific Rim Uprising
Despite the fact that most of the secondary characters (namely the cadets) are so poorly developed (hell, I couldn't make any distinction between them), this decent (yet unnecessary) sequel relies on a solid structure and has enough urgency to hold us on the edge of our seats.

While it maintains an interesting visual appease Pacific Rim: Uprising fails to put up a fight from a lack of convincing characters, cheesy dialogue and a bumbling plot that is far from an upgrade from its first entry. 2.3/5

It happened. After the quirky, weird and wonderful first part, the second just went full-on "Bay's transformers" when it comes to the action, the characters, slow-motion turning around in front of explosions and very questionable plot decisions. There is a good idea here or there, but also a lot of bad ones. Boyega is a great leading man but he doesn't stand a chance against the ludicrous plot. At least the showdown delivers what you sat down to see, but overall the disappointment is pretty big because there is not a spark of brain function in the entire film.

A year ago on this weekend a reboot of the nineties hit show Power Rangers was released and embraced a more moody and grounded tone than that of its source material. This year, with Pacific Rim: Uprising what we have is what that movie might have been had it decided to go another route and play up the more cartoonish aspects of that super hero series. This is to say that Uprising is so bombastically cheesy in its reliance on knowing exactly what it is and delivering on exactly what it promises that it's genuinely hard to fault the film for doing what it sells itself to be. Pacific Rim: Uprising is a five year-later sequel that no one in particular was necessarily looking for, but is here given the amount of dough that original ended up making in China ($411 million globally on a $190 million budget, $111 of which came from China-almost $10 million more than the film made domestically). Of course, with this kind of sophomore slump effect weighing on the decision of whether or not to even continue the would-be franchise this second installment has come to us not from "visionary" and now Oscar-winning director Guillermo del Toro nor does it star Charlie Hunnam or Idris Elba, but instead is co-written and directed by Netflix's Daredevil season one showrunner Steven DeKnight and enlists the fresh talent of Star Wars-breakout John Boyega as the son of Elba's fallen character from the first film. Uprising jumps a decade into the future and intends to reboot Pacific Rim the opposite way that Power Rangers movie did the original series last year. Meaning, while the first Pacific Rim was a little too self-serious given its story and a little more moody than might have been necessary, while more visually detailed to be sure, Uprising plays things a little more straight-forward and is exactly the kind of movie I would have loved when I was seven or eight years-old; it's big, it's colorful, and it has robots fighting robots and robots fighting monsters. That isn't to say this is a better film than its predecessor-I don't think I'd go that far as del Toro still enlisted a fun enough tone and built an entire world from which Uprising benefits-and Uprising maybe complicates things a little too much with its story whereas that initial film was so cut and dry in that aspect it was almost shocking, but the important thing is that Uprising is a fun if not ultimately forgettable slice of entertainment that plays to its B-movie strengths. read the whole review at www.reviewsfromabed.com
Quotes
There are no approved quotes yet for this movie.