The Palm Beach Story
(1942)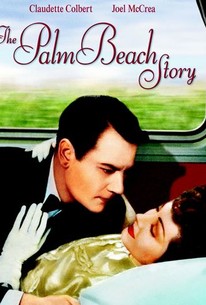 The Palm Beach Story Photos
Movie Info
As for the opening reels, the principal motivating factor is money. After a deliberately confusing pre-credit sequence (not explained until the film's punch line), Tom Jeffers (Joel McCrea) and Gerry Jeffers (Claudette Colbert) are married. "And so they lived happily ever after," exults a title card, "...or did they?" Well, they didn't. After five years of marriage, Tom hasn't raised a dime with his pie-in-the-sky inventions. Using the sort of logic common to Sturges heroines, Gerry decides that the only way to help her husband is to divorce him, marry a wealthy man, and use the second husband's money to finance Tom's schemes. Borrowing money from a generous self-made business mogul known only as the Wienie King (Robert Dudley), Gerry boards a train to Palm Beach, FL, where all the rich folk go. En route, she is "adopted" by the Ale & Quail Club, a group of perpetually drunken millionaires whose idea of a good time is to shoot their rifles at everything that moves (among the club members are such Sturges regulars as William Demarest, Robert Warwick, Jimmy Conlin, Robert Greig, Jack Norton, and Dewey Robinson). Taking refuge from this rowdy crew, Gerry makes the acquaintance of likeable stuffed shirt John D. Hackensacker III (Rudy Vallee), who happens to be one of the wealthiest men in the Western Hemisphere. While Gerry spoons with Hackensacker in Palm Beach, the confused Tom (remember him?) dallies with Hackensacker's man-crazy sister, Princess Centimillia (Mary Astor). How all this straightens itself out is better seen than described, which is pretty much the case whenever one discusses Sturges' singular work, and The Palm Beach Story is vintage Sturges with one side-splitting sequence after another. ~ Hal Erickson, Rovi
Critic Reviews for The Palm Beach Story
Audience Reviews for The Palm Beach Story
Written and directed by Preston Sturges ("Sullivan's Travels", "The Lady Eve"), The Palm Beach Story once again shows his knack for wittiness and light-hearted cynicism when it comes to conniving females. This time it's Claudette Colbert who uses her feminine wiles to manipulate wealthy men into doing her bidding. Her husband (Joel McCrea) doesn't want to let her go, but she's decided to leave him for the noble cause of letting him live within his means. This means she'll be free to pursue wealthy old men and live the kind of lifestyle she feels she's meant to live, but this of course is only a lucky coincidence for them both. Even with her self-sacrifice, her husband would rather keep ahold of her, and follows her down to Palm Springs where she's latched onto a wealthy poindexter by the name of J.D. Hackensacker the Third (Rudy Vallee). Of course his sister, The Princess Centimillia (Mary Astor) thinks the husband is a dreamboat, but she'll chase after any guy, apparently. Colbert convinces her wealthy beau that her husband is actually her brother, and this leads to double dating and double courtships. The Palm Beach Story stands out from other farcical comedies of it's day because it's rapid fire dialogue and quick pace are still just as clever today as they were when the film was made. Colbert and McCrea are fine as the leads, but it's Vallee and Astor who steal the show. The hedonistic playground of the wealthy is rich fodder for comedies of deceit, and this one takes quite a bit of the cake.
Devon Bott
Super Reviewer
A woman separates from her husband so she can gold dig for his benefit. I'm confused by the unanimous approval this film garnered. There are a lot of madcap absurdities from beginning to end, including the most gullible millionaire in film history and some crazy gun-toting club who shoot up a train. More importantly, Claudette Colbert's character's objective is to seduce men into giving her money, which, although believable, makes her character difficult to identify with even if she plans to use the money for a "good cause." And the deus ex machina at the end is too ridiculous to believe. Overall, after a finished watching this film, I was convinced that it was proof that not all old films are gold, and even after I finished reading critics' uncritical support of it, I can't say I've been swayed.
Jim Hunter
Super Reviewer
Madcap, screwball, shenanigans and hooligan antics abound in this, another Sturges comedy. Starring Claudette Colbert, in another of her zany roles, and the much underappreciated Joel McCrea, there are some immensely funny moments nestled in between the sheets of this 40's film. Besides Colbert's great comedic chops, her character easily falls into desperate situations aboard a train full of gunmen, then takes advantage of a wealthy millionaire to finance her unsuccessful husband's ventures. Great scenes include a featuring of William Demarest (My Three Sons) shooting out a train window with live ammunition, the performance of Sig Arno as the foreign born and unintelligible Toto, and Rudy Vallee serenading his beloved from below while she reconciles with her beau. With some great romantic lighting to set an amorous mood, and the charm of such innocent namecalling as "you cluck" you can't help but enjoy it. The only qualm I hold is that it wasn't a comedy classic such as It Happened One Night or Capra's Platinum Blonde. Still, it holds water.
Spencer S.
Super Reviewer
The Palm Beach Story Quotes
| | |
| --- | --- |
| John D. Hackensacker III: | I happen to believe that tipping is un-American. |
| | |
| --- | --- |
| Gerry Jeffers: | Can't you ever learn to be practical? Don't you know that the greatest men in the world have told lies, and let things be misunderstood if it was useful to them. Didn't you ever hear of a campaign promise? |
| | |
| --- | --- |
| Taxi driver: | Yes Maam. |
| Gerry Jeffers: | Where's the best place to get a divorce? |
| Tom Jeffers: | Gerry, for heavens sake! |
| Taxi driver: | Well most people go to Reno NV, but for my money it's Palm Beach. This time of the year you've got the track, you've got the ocean, you've got the palm trees...; three months, you leave from Penn Station. |
| Taxi driver: | Well most people go to Reno, Nevada, but for my money, it's Palm Beach. This time of the year you've got the track, you've got the ocean, you've got the palm trees. Three months, you leave from Penn Station. |