Pan Tadeusz
(1999)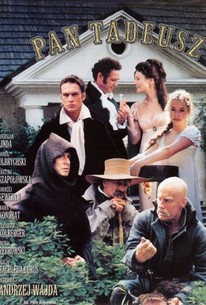 AUDIENCE SCORE
Critic Consensus: No consensus yet.
Movie Info
Legendary Polish filmmaker Andrzej Wajda adapts a nationally treasured epic poem to the silver screen. For 400 years, Lithuania and Poland were linked, until the country was partitioned in 1795 by aggressive nations at its borders -- Russia, Prussia, and the Austrian empire. At that point, the formerly huge nation simply ceased to exist. Yet one hope remained for the patriotic Poles yearning for autonomy -- France. Napoleon promised to restore the Polish homeland if they, in turn, helped him defeat Russia. Thousands of Poles were part of the French force that reached the gates of Moscow before being forced into a long and bloody retreat. The film itself centers on two families who live in the Russian-controlled part of Poland: the Horeszkos, who ardently favor independence, and the Soplicas, who support Russia. In 1792, the last household lord of the Horeszkos was killed by Jacek Soplica; as a result, the latter was rewarded with the former's castle by the Russian colonizers. Twenty years later, the region is rife with rumors of Napoleon's imminent invasion. A destitute Count (Marek Kondrat) and heir to the Horeszko family estate almost throws his lot in with the richer and more powerful Soplica clan before he stumbles upon Gervais (Daniel Olbrychski), who reminds him of the treacherous murder of his ancestor. Meanwhile, Tadeusz (Michal Zebrowski), the rakish nephew of Judge Soplica (Andrzej Seweryn), who symbolizes all that is good and right about Poland, is confronted with a choice upon returning from university. He can either give his heart to the beautiful, pure, 14-year-old Sosia (Alicja Bachleda-Curus), a distant cousin of the Horeszkos who is living with the Soplicas, or he can opt instead for the worldly, sophisticated, St. Petersburg-educated Telimena (Grazyna Szapolowska), who is related to both clans. This film, which in many ways sums up Wajda's long and illustrious career, was a massive success in its native Poland.
Critic Reviews for Pan Tadeusz
Audience Reviews
There are no featured reviews for Pan Tadeusz at this time.
Pan Tadeusz Quotes
There are no approved quotes yet for this movie.