Faubourg 36 (Paris 36)
(2009)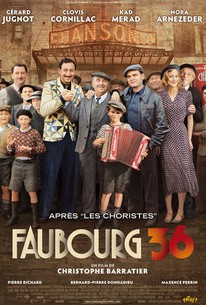 TOMATOMETER
AUDIENCE SCORE
Critic Consensus: Sweet and light, this homage to French vaudeville -- and Francophilia in general -- is pretty, but its air of nostalgia occasionally borders on the saccharine.
Faubourg 36 (Paris 36) Photos
Movie Info
A star is born in a time of both celebration and instability in this historical drama with music from director Christophe Barratier. In the spring of 1936, Paris is in a state of uncertainty; while the rise of the Third Reich in Germany worries many, a leftist union-oriented candidate, Léon Blum, has been voted into power, and organized labor is feeling its new power by standing up to management. While such matters might normally seem unimportant to Germain Pigoil (Gérard Jugnot), who runs a small vaudeville house in the Faubourg district, the chaos of the city seems to be impacting his life and his work -- his wife, Viviane (Elisabeth Vitali), has run off with her lover, she demands custody of their son, Jojo (Maxence Perrin), and unscrupulous local entrepreneur Galapiat (Bernard-Pierre Donnadieu) threatens to put Germain's theater out of business. With the help of a local political organizer, Milou (Clovis Cornillac), and veteran entertainer Jacky Jacquet (Kad Merad), Germain strikes a deal with Galapiat to reopen the theater, but business is slow until a lovely young woman with a remarkable voice, Douce (Nora Arnezeder), comes looking for a spot in Germain's show. Faubourg 36 (aka Paris 36) received its North American premiere at the 2008 Montreal World Film Festival.
News & Interviews for Faubourg 36 (Paris 36)
Critic Reviews for Faubourg 36 (Paris 36)
Audience Reviews for Faubourg 36 (Paris 36)
½
"Paris 36" starts as Germain Pigoil(Gerard Jugnot) tells a police detective(Marc Citti) why he murdered someone. Previously, Germain was the stage manager at the Chansonia, a music hall, until Galapiat(Bernard-Pierre Donnadieu), an evil capitalist, forces out Dorfeuil(Jean Lescot), the owner, in the waning moments of 1935 and closes the joint. In the first months of 1936, Germain's wife Viviane(Elisabeth Vitali) leaves him and his young son Jojo(Maxence Perrin) supports his drinking anonymously with his accordion playing. Things change radically when Leon Blum and his Popular Front get elected, as strikes are declared and the Chansonia is occupied, waking Germain from his drunken slumber. "Paris 36" is a total victory for production design over content and depth, creating a beautiful looking world while forgetting to fill it with anything meaningful. In the process, it gives short shrift to politics at a point in history when anything was possible. As it is, the movie is simply about people wanting to put on a show, which has been done plenty of times before, with little magic to show for its efforts. It eventually does come together in the end but it is a long way to go for so little.
Oniric fantasy set in 1936 Paris. Costume design, cinematography and music are top-notch. Borrows themes from "Cinema Paradiso" and "Moulin Rouge!" and is indelibly and undeniably influenced by THE French film of the last 20 years, "Le Fabuleux Destin d'Amélie Poulain". FAUBOURG 36, or Paris 36 (as it's known outside of France), is evidently clichéd, but beautiful nonetheless. Gérard Jugnot, Clovis Cornillac, Kad Merad and Nora Arzeneder are outstanding in the four most prominent roles in the Christophe Barratier (Les Choristes)-directed film. The rushed, and unnecessarily tragic ending is a dark spot on an otherwise bright film.
Fernando Rafael Quintero Castañeda
Super Reviewer
Simply delightful! The relationships are so multi-faceted and uplifting: Pigoil and JoJo (estranged father and son), Pigoil and Milou (resentful friends), Milou and Douce (distanced lovers), Galapiat and Douce (tyrannic benefactor and unwilling protege). Smaller parts like Radio Man and Jacky provide the glue that holds the Chansonia together. Everyone has their falls from grace and their subsequent redemptions. The music is perky fun, and the frame story starts and stops at reasonable places. It's just a nice, happy movie :~)
Alice Shen
Super Reviewer
Faubourg 36 (Paris 36) Quotes
There are no approved quotes yet for this movie.