The Park Is Mine
(1986)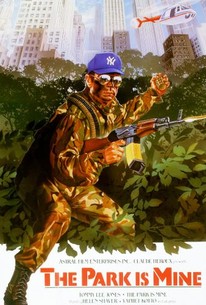 AUDIENCE SCORE
Critic Consensus: No consensus yet.
Movie Info
In this taut action drama, an unbalanced Vietnam vet goes off the beam and takes over Central Park in this made for cable outing that was filmed entirely in Toronto. ~ Sandra Brennan, Rovi
Critic Reviews for The Park Is Mine
There are no critic reviews yet for The Park Is Mine. Keep checking Rotten Tomatoes for updates!
Audience Reviews for The Park Is Mine
A smaller and much weaker attempt at Rambo First Blood. Had an okay start but got lazy fast. This film could not be made today.
Shawn Eklund
½
Action film with Tommy Lee Jones breakout role as a Vietnam vet with good intentions that go wrong. Excellent Yaphet Kotto again plays a Police Officer, this time the head of the NYPD "ESU/SWAT" (Trivia point: Yaphet's son is a real Cop with San Jose, CA PD!). This was intended to be a breakout role for Canadian actress Helen Shaver (who shows a gratuitous breast shot here), but apparently failed. Everyone here are smoking cigarettes and cursing to give "edge" to the film, something rarely seen today due to "political correctness". Technical inaccuracies: swapping magazines from blanks to real ammunition in the same weapon(in this case an AK-47) is impossible, and would cause the firearm to explode in your face. This stunt was also used in one of the "Die Hard" films, and the idea may have come from this film. Jones basically does a Rambo#1 to the NYPD, ambushing and outsmarting them at every turn, and the director sets up the elite NYPD ESU as rubes, bullies and boobs, going so far as to dip into racism by having one of the Black cops openly say he used to sell marijuana/reefer in his pre-cop days (we all know better since 911 however) but this is understandable and necessary to push the plot forward, despite being a bit cheezy. There are several great gems in this film, especially for the military/veterans who know the code. Jones gleeful laughing as he sets off mines is a hoot, as is the reverse when he feels betrayed and sends several 40mm grenades at the cops with his M-79 while screaming at them for being "lying motherfuckers". One specifically hilarious scene is the reaction Jones has when he realizes that a renegade NYC politician has sent in a mercenary "hunter-killer team" (armed with Swedish-K 9mm submachineguns, a silent code to Vietnam vets who know who carried that specific gun in Nam:, maroon paratrooper berets and a cheap shot "Soldier Of Fortune" reference are here also) to take him out, screaming about them "sending the Viet-Cong in here to kill me?". Great stuff. As a Vietnam era veteran, I probably enjoyed this more than most, as it caters to that generations revenge fantasies, but this film stands on it's own as a statement, as it is based on a book of the same name that had underground cred with veterans, and was serialized in Playboy magazine. All melodrama and action, "The Park Is Mine" remains a must see film for all who can appreciate the "War is Hell" and revenge genre of action films. Get it and see it, you will not be wasting your time. As far as I know, this film is not out on DVD, so you will have to see it online or by VHS tape, but seeking it out will be worth it. Grab the buttered popcorn and...Just do it! - (BS2)
Black Snake
The Park Is Mine Quotes
There are no approved quotes yet for this movie.
Discussion Forum
Discuss The Park Is Mine on our Movie forum!