Pastorela
(2011)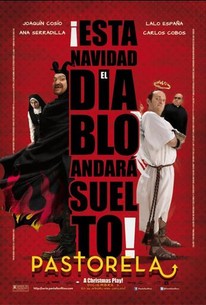 AUDIENCE SCORE
Critic Consensus: No consensus yet.
Movie Info
For as long as he can remember, Agent Jesus Juarez, known in his neighborhood as Chucho, has played "the Devil" in his town's traditional Nativity Play... but this Christmas, things have changed. When Chucho arrives late to auditions, the new pastor of the church, Edmundo Posadas, has already cast all the roles. Now, Chucho must enter into an epic battle between good and evil--a battle between himself and the new pastor to recover the role that is rightfully his. -- (C) Lionsgate
Critic Reviews for Pastorela
There are no critic reviews yet for Pastorela. Keep checking Rotten Tomatoes for updates!
Audience Reviews for Pastorela
It's a bad movie, but entertaining in some times, not working properly, covering subjects that are not fun like an exorcism and one that exorcises that at no time is laughable, the "black comedy" presented during the film does not cause anything to laugh in most of the movie, and some pieces if. The production and effects do not favor anything nor the "hold" trying to make.
Rodrigo Ramirez Corona
Super Reviewer
I enjoyed this film, but by the end the film sort of lost its ground. I don't think there really should've been any supernatural goings-on in the film. I think it cheapens what the film is trying to do. Because there's this really great idea of this man so obsessed with playing the devil in his community's nativity play that he would go to any extremes to play the part, the supernatural aspect sort of cheapens the character's motivations. But I still think the movie is quite fun, certainly goes for a darker approach to its comedy and it works for the most part. The movie is definitely expletive-filled and, somehow, that supplies a lot of the comedy. I'll be the first one to say that film with a lot of curse words does not make a good film, but I suppose in the context of this film, with it relating to priests and religious folk, it sort of works. It doesn't work every time, but it works some times and I think the film has a fun cast that also helps pick up the slack when the script falters. But, again, the film isn't without its flaws and it's unfortunate because there was a point where this was on its way to being a great comedy. Unfortunately some parts of the script/dialogue and the supernatural aspects kept this film from being truly great. But I still had fun watching this, and I guess that's all that you can ask from a movie.
Jesse Ortega
Super Reviewer