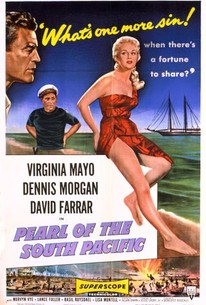 Pearl of the South Pacific
1955, Adventure, 1h 26m
1 Reviews
Fewer than 50 Ratings
Rate And Review
Pearl of the South Pacific Photos
Movie Info
Two men (Dennis Morgan, David Farrar) and a woman (Virginia Mayo) plan to rob natives of black pearls stashed in a sacred pool.
Audience Reviews for Pearl of the South Pacific
This inoffensive mid-'50s jungle/South Seas adventure is not too bad at all. It's all about a woman with a shady past and 2 crooks who sail to a secret island to steal a fortune in black pearls from the natives. The pearls are hidden in a crypt, accessible only by diving to the bottom of a lagoon. The underwater cave entrance is guarded by a giant octopus. The octopus just kinda sits there waving its tentacles. This is very Saturday afternoon "B" movie stuff. Would make a great double feature with "Underwater" or "Zombies Of Mora Tau." It's about that vintage AND quality. I definitely wasn't bored by it, but it was no great "lost" classic either. The jungle sets were better than I thought they would be and the VCI dvd has a decent color print. Worth a look if you are in that '50s frame of mind. Well worth 5 Stars. 2-11-13

South Seas silliness mostly shot on obvious sets but it is colorful and mindless so if you are in an undemanding mood this will fill the bill although they really should have found a reason for Dennis Morgan to sing. Virginia Mayo was a good actress whose career was unfortunately strewn with this kind of junk, either she was at the wrong studio which didn't know how to cast her or she just took whatever came along because excepting The Best Years of Our Lives and White Heat her films are almost all forgettable.
See Details