Penny Dreadful
(2006)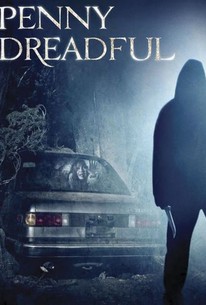 AUDIENCE SCORE
Critic Consensus: No consensus yet.
Movie Info
Penny, a young woman traumatized by a childhood auto accident that killed her parents, accompanies her therapist on a road trip back to the scene of the accident as part of her therapy to overcome her fear of cars. But, when the two women accidentally cross paths with a dark and mysterious Hitch Hiker on a lonely stretch of mountain highway an attempt at healing suddenly takes a terrifying detour into a horrorific life-and-death struggle with a ruthless, deranged killer bent on preying upon Penny's worst fears.
Critic Reviews for Penny Dreadful
All Critics (3) | Fresh (2) | Rotten (1) | DVD (1)
Penny Dreadful is an enjoyable combination of psycho-thriller and slasher horror, which somehow achieves a slick, Hollywood-calibre visual style in spite of its modest budget.
Nothing new, but the visual razzle-dazzle is enough to keep you watching.
Somewhere in here there is a great flick hiding. However as is, it's dreadfully too long.
Audience Reviews for Penny Dreadful
½
The acting of this movie wasn't awful, but it wasn't good either. Some people are saying the movie was "too long" when really it was only 90 minutes. I think it only felt long because the director dragged out scenes and made them much longer than necessary. I think the director tried to make suspense, but because of the lengthy scenes any suspense he attempted to create was lost as the audience got bored. For example (spoilers), in one scene in the car, Penny was sitting and heard kind of a soft moaning sound. It was really creepy and it was pretty suspenseful. However, the person kept moaning for a LONG time, so after like 5 minutes, I didn't really care who was making the noise or where it was coming from. It was a lot longer than it needed to be. There's a bunch of scenes like that in the movie, and it's all really unnecessary. The movie is kind of shallow too. A girl in a car getting tortured by a pyschopath. Lame. They don't even tell you the motive for the killer, until the very end, and even that is pretty lame. It's like they didn't know what the motive for the killer should be so they just said "hey! Let's make it an escaped mental patient!" It was pretty stupid and really unrealistic. How one person would be able to get a car with 3 tires down a hill and wedged tightly between a bunch of trees without causing the car any more noticeable damage is beyond me. Not the best movie. I could've made it better. Just saying.
Penny Dreadful is not a great horror film, I've seen better. But what it is is a pretty good psychological thriller. Penny dreadful is a well made, and well acted horror film that will satisfy any horror lovers urge for a good time. This movie is a dark and gritty psychological thriller that takes you into the mind and soul of a frightened and traumatized young girl, and her fight to stay alive. This film explores three main themes, 1. terror and what it can do to you if you let it control you. 2: What certain events in your life can do to change who you are and what you are. 3: What the darkness of a quiet woods can do to turn your worst fears into a reality. Probably my favorite Horrorfest film.
Cynthia S.
Super Reviewer
Oh man this was so freaking boring! Rachel was being the most annoying character that I've seen. I even hoped her to die soon. No wonder this movie got so many bad reviews. It doesn't even deserve any star to be honest. Just to be polite, I'm giving it 1 star.
Dead Angel
Super Reviewer