Penthouse (Crooks in Clover)
(1933)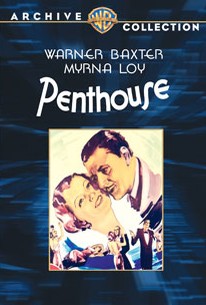 AUDIENCE SCORE
Critic Consensus: No consensus yet.
Penthouse (Crooks in Clover) Photos
Movie Info
Society-lawyer Warner Baxter loses his prestige in the legal community when he successfully defends gangster boss Nat Pendleton. Later on, the soft-hearted Pendleton gets the opportunity to "do right" by saving Baxter's life. This redemptive move comes at the end of a complicated plot involving Baxter's efforts to save Phillips Holmes, who has been framed by nasty mobster C. Henry Gordon, from the hot seat. He is aided in this effort by Gordon's former mistress Myrna Loy, who has all of the film's best lines (When her protecter Baxter falls asleep on a couch, Loy complains "A few more nights like this and I'll be out of condition.") Also in the cast of Penthouse is crime-movie perennial Mae Clarke, here cast as the murder victim. Penthouse was later remade (and highly sanitized in the process) as Society Lawyer, with Walter Pidgeon in the Warner Baxter part.
Critic Reviews for Penthouse (Crooks in Clover)
Audience Reviews for Penthouse (Crooks in Clover)
'Penthouse' tells the story of a lawyer who loses his job and then his fiancé because he defended a gangster, but who then gets called it to help the same woman when her new boyfriend is framed for murder by a rival gang. It has a reasonably tight script and is well cast, with Warner Baxter playing the lawyer and Myrna Loy as the gangster's moll, a 'bad girl' with glittering eyes who he quite understandably falls for. Despite the company he keeps, however, he's a virtuous man - he won't take bad money, he stands up for the accused even when his life is ominously threatened, and when Loy sleeps over at his place, it's just that, sleeping over (much to her surprise). I think the film is pretty good but doesn't really stand out because it's too polished - the gangsters have gentlemanly attributes, far from Cagney's more realistic portrayal, and for all their pre-Code banter, the romantic exchanges lack real passion, with the exception of Mae Clarke (in a minor role), whose reaction when she's jilted is quite good. I suppose that's just it - Loy is very beautiful, but not quite right, whereas Clarke nails it. Not horrible, no major plot holes, nothing to really pan, and if you're a Loy or Baxter fan it may be worth watching - but you could do better.
Antonius Block
Super Reviewer
½
the always adorable myrna loy started out in silents playing exotic vamps and bad girls. this entertaining film was one of her earliest major roles and she plays a sassy call girl who helps lawyer warner baxter to clear his friend of murder. happily, everything works out well for myrna's character, something that would never happen under the hays code given her profession, which is left in little doubt. the following year the thin man made myrna a star and, in marked contrast to her early image, she soon became known as the 'perfect wife'
Stella Dallas
Super Reviewer
Penthouse (Crooks in Clover) Quotes
There are no approved quotes yet for this movie.
Discussion Forum
Discuss Penthouse (Crooks in Clover) on our Movie forum!