Perkins' 14
(2009)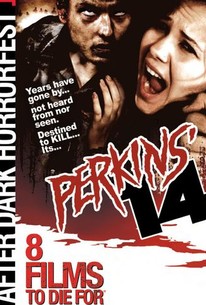 AUDIENCE SCORE
Critic Consensus: No consensus yet.
Movie Info
Dark Ride director Craig Singer returns to the helm with this shocking horror film about a delusional psychopath who creates a unified team of 14 maniacal killers. Produced entirely over the Internet, where writers uploaded story details and actors submitted audition tapes, Perkins' 14 was released into theaters as part of the third After Dark Horror Fest. Ronald Perkins was just six years old when his parents were brutally slaughtered right before his eyes. Unable to overcome the incredible trauma of witnessing such a diabolical event, Perkins becomes convinced that the killers who murdered his parents will eventually return to finish the job they started years ago -- and he plans to be fully prepared to fight back when they do. Years later, when Perkins turns 34, he kidnaps 14 people from his hometown of Stone Cove and sets about reprogramming them to become relentless killing machines. Now, if the killers ever do return, they'll have to get through Perkins' 14 in order to reach their intended target. Trouble is, now that Perkins' 14 are ready for battle, they've become increasingly difficult to contain.
Critic Reviews for Perkins' 14
There are no critic reviews yet for Perkins' 14. Keep checking Rotten Tomatoes for updates!
Audience Reviews for Perkins' 14
This has got to be the strangest looking, least talented cast I've ever seen. They must have gotten every freaky looking goon with a Screen Actors Guild card to star in this thing and it was amateur hour to the extreme. The story isn't so bad to start out, a man who suffered a tragedy wants to get back at the people who didn't do anything to help him. He does this by kidnapping 14 of the towns children, and yes, his name was Perkins. This strange, evil, little man decided to drug these kids with PCP, until there brains are mush, and then he tortured them into become zombies, who would be unleashed if anything ever happened to him, and yes, something happens to him. From there, this film becomes one badly acted gorefest that makes no sense at all. Body parts fly, intestines come out and get consumed, and the town of Stone Cove becomes overrun. This whole thing was ridiculous and I can't believe it was chosen to be part of the After Dark Horrorfest. It's so badly directed and cast that it looks like some kids film class project, Perkins' 14 shouldn't be in a Horrorfest collection, it should be a joke on Mystery Science 3000.
Todd Smith
Super Reviewer
Plot is ridiculous, the victims are not developed, too many goofs.
Sylvester Kuo
Super Reviewer
½
I really liked the twist at the end....but I didn't really like anything else about it. All the characters for the most part, were extremely obnoxious. None of them were likable. I don't really understand the overused cannibalistic concept either. Sure the 14 kids were brainwashed and seriously fucked up, but do they REALLY need to be cannibals on top of everything else? It's just so cliche and old. Since they used to be normal kids, you would think they wouldn't eat people, despite being drugged. I think it was just added to throw in some gore, but the gore really wasn't that great. I would've liked it a whole lot better if the kids didn't eat their victims. Sure it's disgusting, but I've seen it so many times. I'm just unphased by it now. The twist at the end, was a nice touch. I think Kyle should've been in the movie more. There were so many ideas crammed into this 1 hour and a half long movie. It just seemed really rushed. You didn't get much of a background about the pharmacist or Kyle's story either. I think the movie should've centered on Kyle's disappearance rather than all the other random shit happening in the movie like the motel couple. It was all just really unnecessary. Overall it was a pretty forgettable movie. I don't even remember why the pharmacist did those things to the kids, and that seems like an important part to remember. FAIL.
Perkins' 14 Quotes
There are no approved quotes yet for this movie.