Pernicious
(2015)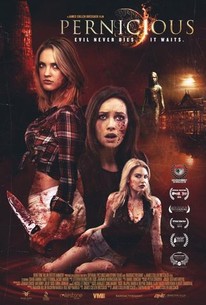 AUDIENCE SCORE
Critic Consensus: No consensus yet.
Movie Info
Three young, beautiful girls arrive in Thailand to teach English for the summer, some with noble intentions and some just wanting an adventure, but none were prepared for the massacre that awaited them. The nightmare begins when their new friends go missing, vivid bloody dreams haunt their sleep and a stolen statue leads them down a dark path into Thai folklore and magic that has been long forgotten. Their situation continues to become worse once they realize it's not WHAT that is haunting them but WHO: an eight-year girl, brutally murdered and sacrificed by her family decades ago who wants nothing more than to watch them bleed. (C) Official Site
Critic Reviews for Pernicious
All Critics (3) | Fresh (2) | Rotten (1)
It delivers solid creepy jump scares and a few pints of blood for the thirsty.
A familiar but creepy little shocker that boasts an exotic locale and some unpredictable moments.
With lots of running about between different unlikely scenarios connected by the flimsiest of dialogue, Pernicious feels like bad porn with the sex taken out.
Audience Reviews for Pernicious
This film definitely has an intriguing enough concept to make you wanna see it through to the end. Ultimately, though, while the film has some good ideas, the whole thing ends up feeling like a substandard horror flick. The film has slasher and supernatural elements, combined to a surprisingly decent effect, but I don't think the film, honestly, has enough interest things to say in order to justify it going close to 90 minutes. Not to mention that, sometimes, not always, the whole thing just feels and looks cheap. I've never had a problem with low-budget films, in the least, to me, unless it looks like it was literally filmed on an iPhone by a pair of people who have a history of seizures then I had no problem. To me it's all about the content that the film offers. In cases where a film's narrative isn't clicking and I'm just not enjoying it, then that's usually when I notice and feel the need to point it out. For example, the whole Kumari legend in Thai culture is something that they could've gotten a lot more mileage out of and yet they didn't. Like they barely touch on it, essentially saying that they're meant to be worshiped and everything that involved the statue of the little girl covered in gold and how she wants vengeance. I think they pretty much simplify it and that's fine, this is a horror movie at its core, but it's not like the film simplifies it in order to tell a terrifying story. Maybe getting more into the details of why this is such a big deal in Thai culture might have been better. That's just me. There's also instances where the film's acting is absolutely horrendous. Like they just did one take, because they were short on time and probably over-budget, and they just refused to do any more takes, ala Ed Wood. The scene where the three leads go to see this witch, I guess, in order to learn more about the statue is just laughably bad. First of all, they have this ridiculously terrible wig on the character. It's obvious that they just put make-up on a young woman in order to make her look older, the wig being part of that, and it was just really laughable. Maybe it was meant to be like that, who the fuck knows. Secondly the dialogue is actually, and you can clearly notice this, performed by someone else instead of the actual actress playing the witch during post-production. Maybe the actress was really terrible and you couldn't understand her lines or anything, but it makes the film look really bush league. There's also this one scene, maybe not technically the fault of the film itself, where there's a lot of dialogue in Thai and yet it not subtitled. Not one fucking subtitle for a scene that, with the amount of Thai dialogue and the fact that it was close to the end, after the reveal of what really happened, seemed to be like it was immensely important and yet there was no subtitles whatsoever. Maybe we were never meant to understand, but if that were the case then the scene wouldn't have been as long as it was. It's like a 3-minute scene, all in Thai. So you can imagine how fucking annoying that was. Completely missing out on something that seems essential. That takes points away for sure. With that out of the way, the film isn't really terrible. It's just not interesting or good enough to justify its length. There's things about it that are terrible, like some of the acting, but there's some good moments and ideas here. It's just that they're not used to maximum effect. So, therefore, the film ends up falling flat on a lot of what it does. It could've been considerably worse though. I still wouldn't recommend it, not in the least.
Jesse Ortega
Super Reviewer
Pernicious Quotes
There are no approved quotes yet for this movie.