Phantasm II
(2000)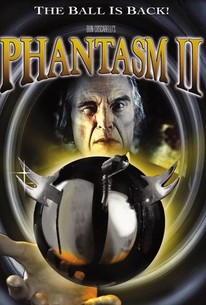 Movie Info
The lanky ghoul with embalming fluid in his veins, "The Tall Man" returns in this graphically gory horror sequel to the popular 1979 cult film. This time the mortician-from-hell has left his cemetery haunts and is looking for living beings to enslave.
People Who Like this movie also like
Critic Reviews for Phantasm II
Audience Reviews for Phantasm II
I might be in the minority when I say that Don Coscarelli's 1979 outing Phantasm was an obscenely overrated relic that has only calcified with age. I shouldn't have been preternaturally excited for the sequel but fortified with Universal Studio's financial upgrade and James LeGros in the lead role now, my expectations were cantilevered into the positive column. After a recap of the previous finale, Phantasm II delivers on the promise of a more fluid, kinetic successor. Reggie's (Reggie Bannister) escape from The Tall Man's (Angus Scrimm) monastic midgets is a dynamite set piece. By now, Phantasm is renowned for two things- Scrimm and the silver balls. And the drilling mutilation via the forehead is more satisfyingly graphic than before and the dental-instrument sound F/X really amplify the cringe factor. A Cuisinart comparison is quite appropriate. The dream logic might be gone but, I for one, haven't missed the masturbatory abstraction of them. Streamlined is better for Coscarelli's splanchnic vision. Reggie and Michael are flamethrower-and-shotgun-touting vigilantes and their makeshift weapons from a hardware store reinforce the notion that Phantasm II is a disparate beast from the former with more action-movie firepower and velocity. Once again the musical theme by Fred Myrow is contagiously creepy. Coscarelli nails the gothic atmosphere of a Hammer film inside velvet-draped corridors and echoing mausoleums. Scrimm is still a towering presence that will induce heart palpitations in spades. The road trip from cemetery to cemetery in pursuit of Liz Reynolds (Paula Irvine), a clairvoyant with an ill-defined connection to Michael (LeGros), is patently incomprehensible. This is very much classified in the style-over-substance subcategory but that is hardly a misstep. The balding Lothario Bannister isn't a polished thespian but his horny shtick is amusing nonetheless ("It gets hard on the road") and his chemistry with LeGros is airtight. Regardless of my antipathy towards the first film, part 2 is a rip-roaring, albeit daffy rollercoaster through Perigord Mortuary. A retread of the original's sequel-bait ending is an anticlimax though.
Cory Taylor
Super Reviewer
½
With director Don Coscarelli having created one of the best works in horror cinema in 1979 with the original Phantasm, he would take his time and nine years later would craft a solid follow-up with this sequel. Although not as masterful as the original, Coscarrelli manages to deliver effective chills that will certainly appeal to diehard fans of the original. Angus Scrimm returns as The Tall Man, one of the most iconic horror villains in the genre. Phantasm II is a respectable and very entertaining entry and I really enjoyed the tone and atmosphere of the picture. Coscarelli manages to expand the plot a bit, but never adds anything refreshing to the plot. There's everything you'd expect from a Phantasm flick, and Coscarelli pulls out enough tricks to keep the fans happy. The aspect of this sequel that stands out as usual is The Tall Man, he makes up for the shortcomings that the plot sometimes has. The script suffers from all the usual weaknesses of a sequel; however director Coscarelli relies more on visuals and atmosphere to tell his story. The result is a very good horror flick that delivers an entertaining hour and a half of effective terror. The performances are very good as well, and this is among the best horror sequels made in the genre. If you can forget its flaws, you're sure to enjoy this one. With familiar territory, The Tall Man is pursued by Reggie and Mike, and is a bit predictable at times. The ideas here are good, but could have been done a bit better. As I stated, there's nothing new going on here, but that shouldn't keep the fans away from seeing this one. l simply put, a well done film with the steel ball and The Tall Man, what else could you ask for?
½
Fantastic follow-up to a great horror classic. Even though it doesn't include the kid who was in the original to play his role, it's still entertaining as hell.
Tim Salmons
Super Reviewer
Phantasm II Quotes
| | |
| --- | --- |
| Mike: | Reg, who are we kidding? I'm a nineteen-year-old kid. You're a bald, middle-aged, ex-ice cream vendor! |
| | |
| --- | --- |
| Tall Man: | You think that when you die, you go to heaven? You come to us. |
| | |
| --- | --- |
| Mike: | Small towns are like people: some get old and die a natural death. Some are murdered. |
Discussion Forum
Discuss Phantasm II on our Movie forum!