Pinky
(1949)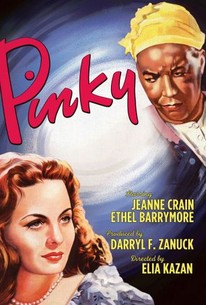 Movie Info
Elia Kazan directed this, one of Hollywood's early attacks on racism, starring Jeanne Crain as Patricia "Pinky" Johnson. Patricia is a light-skinned black woman who is studying nursing at a New England medical institute. A white doctor, Thomas Adams (William Lundigan), has fallen in love with Patricia and wants to marry her, but Patricia refuses his proposal. Convinced their interracial union would never work out, Patricia believes Thomas would never be able to endure the acrimony that would be heaped upon their marriage. Patricia leaves New England to return to her childhood home in the South, where her grandmother (Ethel Waters) works for rich widow Miss Em (Ethel Barrymore). When Miss Em takes ill, Patricia cares for her. Upon Miss Em's death, it is discovered that she has bequeathed her entire estate to Patricia. Miss Em's family disputes the will because Patricia is black, and a courtroom battle ensues over the estate.
Audience Reviews for Pinky
An early and slightly dated look at racism. It was probably great for its time and kudos to the maligned Kazan for bringing it forward. Don't expect too much and you will enjoy it.
John Ballantine
Super Reviewer
Sad to see a white actor play the part of a light skin black women, But excellent story line showing life in the United States, most people think it was limited to the south which it was not. A movie that will never be seen on TV today and should be watched by all. Any film lover should enjoy this. 4 stars
Bruce Bruce
Super Reviewer
Pinky Quotes
There are no approved quotes yet for this movie.