Plump Fiction
(1996)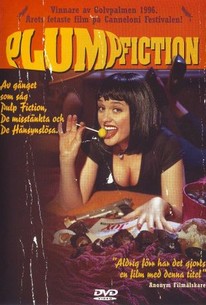 Movie Info
This obvious spoof on Quentin Tarantino's Pulp Fiction features exterminators Jimmy and Julius who parody hitmen. Marsellus and coke-addict Mia are replaced by compulsive eater Mimi and husband Montello. Wannabee writer Bunny arrives with Forrest Gump-like Bumpkin. Psychos Nicky and Vallery disrupt the storylines, as do some nuns with guns.
Audience Reviews for Plump Fiction
one of the best under rated spoofs out there very hard to find this film. I have a theory that tarantino bought them all up, this film explains all his movies, and he doesn't want you to know what he knows, and i have been smoking something fierce and am really high, still, why is this movie so hard too find, i will ask q.t when i see him and see what he says, i'll just go down too the video store, oh wait im still really stoned, and dl killed all the videostores, and i had it,no more tipping waitresses
mike hawke
Ummmm, no. Let this one run one late night as I did other stuff and even then, it was less than entertaining. My love of all things Tarantino kept it on to see if a funny moment could pop out of this spoof. One didn't.
Plump Fiction Quotes
There are no approved quotes yet for this movie.
Discussion Forum
Discuss Plump Fiction on our Movie forum!