The Pornographer
(2001)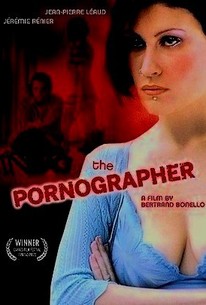 Movie Info
A man who traded in his artistic ambitions for commercial success now finds himself at a personal and professional impasse in this drama. Jacques (Jean-Pierre Leaud) is a filmmaker who in the 1970s directed a number of top-grossing porno movies; more than two decades later, Jacques's struggles to get out of adult movies into something more satisfying have not borne fruit, and his efforts to make porn films that are more sensual and less obvious don't go over well with his producers. Jacques would just as soon get out of the business and complete a more personal project he was forced to abandon in the mid-'80s, but directing porn is the only work he can find that pays enough to put a dent in the debts he's racked up, as well as those of his wife Jeanne (Dominique Blanc). As Jacques tries to decide what to do with his career, he gets a surprise telephone call from his son Joseph (Jeremie Renier); Joseph turned his back on his father years ago when he found out what he did for a living, but the boy, now a college student and a political activist, has decided it's time to reconnect with his dad. Le Pornographe features Jean-Pierre Leaud's character directing two real-life French porn stars, Ovidie and Titof, in an explicit sex scene for one of Jacques' films. ~ Mark Deming, Rovi
Critic Reviews for The Pornographer
Audience Reviews for The Pornographer
½
In "The Pornographer," Jacques Laurent(Jean-Pierre Leaud) is a legendary pornography director, who suddenly stops with one fantasy left on the table, that of a human fox hunt. However, twenty years later, he gets back into director's chair. All goes well through most of the shoot, until the end when the assistants have to step up to complete the movie. At least things are going better with Jacques' son Joseph(Jeremie Renier) who is beginning a relationship with Monika(Alice Houri). "The Pornographer" is a dreary movie about a dreary man. Jacques' flaw is that he is thinking he is better than the movies he has made, with full pretensions of grandeur.(If this movie were actually smart and self-aware, then Joseph's story could actually be considered the movie that Jacques desperately wants to make, but that's giving it way too much credit.) In fact, he cannot think of the happiness that he has brought so many people through his work. Along these same lines, the movie, while occasionally sexually graphic, does ironically tend to be remarkably skittish towards sex in general.
A fascinating depiction of a man's regret when forced to re-enter a career that he gave up many years earlier. The pornography is merely the side story. This is a compelling personal reflection.
John Ballantine
Super Reviewer
An aged pornographer returns to the industry after a twenty-year hiatus while he attempts to reconnect with this estranged son and breaks up with his wife. Jean-Pierre Leaud is either a good character actor or has simply not aged well. The once handsomely intense Antonin Doinel is now he-of-the-chiseled-face with a French moroseness that makes him sad to watch. Most of this is appropriate for the character, but within the film, which wanders and suffers from too much melancholy, he merely depresses us further. The overall theme of the film may be either a condemnation of passivity or a statement about the direction of cinema over the last twenty or so years. Both themes have their problems and are inconsistently carried on. For example, Jacques does little to prevent his artistic porn film from being sullied by his producer, and his son's form of protest is silence. But both get no rewards when they break the bonds of passivity. So ... I don't get it. If the theme then is about the movie industry, then does Bonello really think that substance was really reigning supreme in the days before Katie Morgan? And if he's not focusing on porn in particular, then does he really think that substance reigned supreme when filmmakers were shooting The Swarm? Or any of the monster films of the fifties? You could say that this is simply a character study, but Bonello is clearly opening doors trying to get us to think about certain themes. He just fails to carry anything through with any consistency or clarity.
Jim Hunter
Super Reviewer
The Pornographer Quotes
There are no approved quotes yet for this movie.