Poseidon Rex
(2014)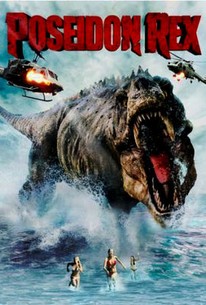 AUDIENCE SCORE
Critic Consensus: No consensus yet.
Movie Info
A small, secluded island off the coast of Belize suddenly finds itself terrorized by a deadly predator from the planet's distant past, when deep-sea divers accidentally awaken an ancient evil. Jackson Slate and his team of underwater cave explorers unearth much more than long-lost Mayan treasure while plumbing the depths of a world famous blue hole. They disturb a creature that's been hibernating for over 60,000 years - a rampaging behemoth of death and destruction not only at sea but also on land. (c) Anderson Digital
Critic Reviews for Poseidon Rex
All Critics (3) | Top Critics (1) | Fresh (0) | Rotten (3)
The filmmakers forget the fundamentals of B-movie 101: Skin-baring spring breakers make for the most qualified carnage.
At the end of the day, Poseidon Rex is not a good film. Its cheapness and corny clichés are too powerful to ignore. But Poseidon Rex is a sincere film, and that can go a long, long way.
Poseidon Rex is boring with few laughs to be had, be they genuine or at the expense of the cast and crew.
Audience Reviews for Poseidon Rex
Bland, low budget schlock fest, Poseidon Rex is one of those low budget monster films that just doesn't deliver, and uses a stupid premise to rely on telling a story. The result is a pointless train wreck that fails to grab your attention despite the sheer ridiculousness of the idea, and with that being said, it should have been something fun, instead, it fails to be an entertaining trash fest, and it boasts some dull, clichéd and over the top performances that simply don't make this a worthwhile viewing. The film is not meant to be taken seriously, of course, but at the same time, there could have been a bit more effort as well in trying to make something memorable and fun. The terrific trash film Big Ass Spider! Was a prime example of the genre done right. However, Poseidon Rex just doesn't deliver on its sheer ridiculous premise, and it should have been much better as well. Don't go into this one expecting some sheer trash fun, although the premise is interesting, there never is anything to really make this standout, and other films in the genre are far better than this, most notable the film I mentioned earlier. Poseidon Rex tries too hard at being a trashy horror film, and in that regard, it's quite interesting, I'll give it that, but, the ideas never become truly fun or memorable and the film as a whole isn't worth your time. I've seen far better so bad it's good horror films than this, and Poseidon Rex despite having a somewhat interesting idea, fails to grab your attention due to a bad cast and too many monster film clichés that just don't hold up. Wat6ch a different type of low budget schlock fests, you'll be glad you did.
Poseidon Rex Quotes
There are no approved quotes yet for this movie.