Pretendiendo
(2007)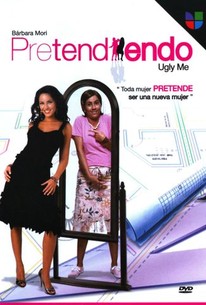 AUDIENCE SCORE
Critic Consensus: No consensus yet.
Movie Info
A sexy woman decides to find out what life is like for her less attractive sisters in this comedy from Chile. Amanda (Bárbara Mori) is a beautiful, intelligent, and talented woman who is trying to make a name for herself as an architect, but despite her seeming good fortune, Amanda is not happy with her life. Amanda's husband is chronically unfaithful to her, and her boss is by turns a bully and a weakling, and she begins to wonder if men disrespect her because of her good looks. Amanda puts this theory to the test when she leaves her husband and job behind and moves to a new town, where she takes the name Helene and disguises her face and figure with a padded suit, an ugly wig, dowdy makeup and crooked false teeth. Relying solely on her talent, Helene quickly gets a job at a small design firm whose boss Max (Jaime Azocar) is greatly impressed with her ideas for new buildings. One of Helene's new co-workers is Marcelo (Marcelo Mazarello), a shirt-chasing male chauvinist who initially pays no attention to the frumpy new employee. However, as they get to know one another, Marcelo finds he admires Helene's turn of mind and enjoys having a friendship with a woman for a change, though Amanda is appalled by his attitudes toward women -- so much that she hatches a plan to turn the tables on him by meeting him without her Helene disguise. Pretendiendo (aka Pretending) received its North American premiere at the 2006 Los Angeles Latino Film Festival.
Critic Reviews for Pretendiendo
All Critics (2) | Top Critics (2) | Fresh (2) | Rotten (0)
A battle-of-the-sexes comedy that flies the flag of genre master Billy Wilder in its use of a self-created double life to allow for farce and feeling in equal measure.
Mori, whether buried in bad makeup or dropping jaws in a slinky number, turns out to be a fine actress who just happens to be a total knockout.
February 7, 2008

Audience Reviews for Pretendiendo
½
A cute story, humorous enough to provide some good laughs, but ultimately a story that was, as others have said, a not very original treatment. A beautiful woman is betrayed and swears off men, disguising herself as a frump in order to prevent men from being attracted to her. Meeting the office Lothario at her new job presents her with an opportunity to teach him and by default, all men, a well deserved lesson. The lead actress, Barbara Mori who played three personae, was believably dowdy as Amanda, and ravishingly beautiful as her alter ego, the femme fatale, Helena. The scenery was beautiful and this viewer especially enjoyed some of the establishing shots, that highlighted the texture of the Chilean backdrop. Four stars if not for the disappointingly cliched ending. Because of that, however, only three and a half.
Mark Abell
Super Reviewer
Pretendiendo Quotes
There are no approved quotes yet for this movie.