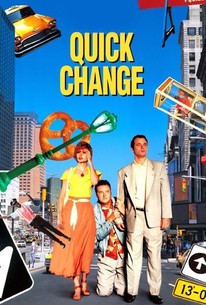 Quick Change
1990, Comedy, 1h 28m
37 Reviews
5,000+ Ratings
What to know
critics consensus
Quick Change makes the most of its clever premise with a smartly skewed heist comedy that leaves plenty of room for its talented cast to shine. Read critic reviews
Where to watch
Rent/buy
Rent/buy
Rent/buy
Rate And Review
Movie Info
With the aid of his girlfriend, Phyllis Potter (Geena Davis), and best friend, Loomis (Randy Quaid), Grimm (Bill Murray) enters a Manhattan bank dressed as a clown, creates a hostage situation and executes a flawless robbery. The only thing left for the trio to do is make their getaway out of the city and to the airport. It sounds simple enough, but it seems that fate deserts them immediately after the bank heist. One mishap after another conspires to keep these robbers from reaching freedom.
Audience Reviews for Quick Change
This film has a lot of formulaic and yet entertaining elements that make it interesting and yet not memorable enough to resonate. Even Bill Murray, starring and directing, could not save this film from dire straits, and maybe that simply speaks to this being Murray's low point in his career. Some critics have said that this is one of his best performances, "a man jaded by The Big Apple," but that's not an appropriate description of what ultimately proves to be a haphazard character who moves between insane criminal and the blunt and carefree Murray we know best from "Ghostbusters." Murray also directs this film with writing partner Howard Franklin after both Jonathan Demme and Ron Howard turned it down, Howard feeling like there was no character to root for. I wouldn't say that that's the exact problem, because even though the thieves aren't changed through their journey, and they aren't feel-good or eccentric characters, they're not bad characters necessarily. The three of them all have their own reasons for robbing the bank, getting away to a foreign country, and doing so while the police chief for the city tries to close the case for his last hurrah before he retires. Murray is very good, I will give him that, but Geena Davis and Randy Quaid are abysmal, playing a throwaway love interest and a borderline mentally handicapped goon. They are chased around the city, trying to make their flight, and in the process get their lives endangered by a new tenant to their old apartment (Phil Hartman!), a gang of mobsters( that must be idiots if they believe that the likes of them are also mobsters), and various people who keep them from getting to the airport including Stanley Tucci, Tony Shalhoub, and Philip Bosco. Jason Robards as the police chief was very succinct in his performance, while also being a bit fed up with his hometown like Murray's character, lending to a strange link between them. Though this film is forgettable when it comes down to it, it's a film with Bill Murray, so it still manages to entertain.

Quick Change is a clever and fun comedy co-directed by Bill Murray. The story follows a group of bank robbers that pull off a daring robbery, but when their escape plan falls apart they have to make one up as they go along. The cast is full of great comedic talent, including Bill Murray, Randy Quaid, and Geena Davis. The story is actually pretty good and cleverly written, allowing it to flow organically. Quick Change has a few weak points, but overall it's a fun and hilarious comedy that delivers a lot of laughs.

a funny story of a heist gone completely wrong. they go from one miss step to the next

A fun filled comedy adventure with great actors, great story, and altogether it's a great movie. I loved it, and if you love Bill Murray you should see this too.
See Details