'R Xmas
(2001)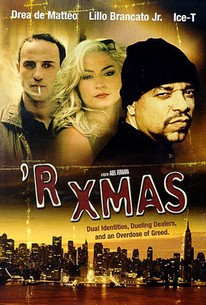 Movie Info
Cult favorite Abel Ferrara directed and co-wrote this story set in New York City in 1993, before Mayor Rudy Giuliani's much-publicized crusade against street crime put a dent in semi-public drug dealing in the city. It's a few days before Christmas, and a Latin American couple living on the city's Upper East Side (Lillo Brancato Jr. and Drea de Matteo) are watching their daughter (Lisa Valens) perform in her school's holiday pageant. Afterward, the couple drop the child off with a babysitter and set out to run some errands. They have two items on their agenda: get their daughter the doll she's been asking for (a nearly impossible task, since the toy has become the must-have item of the season), then head to their work space uptown, where they prepare and package heroin for street distribution. While the wife has her qualms about the ethics of drug dealing, both she and her husband know there's plenty of money to be made in heroin -- more than most Hispanic immigrants could make working legitimate jobs in New York -- and the business has been highly lucrative for them. The couple discovers one of their lower-level dealers may be talking to the police, but they soon have a bigger problem to deal with when the husband is lured to the Bronx by a fence who can get him the toy he's been looking for. The husband finds he's been lured into a trap, and a kidnapper (Ice-T) gives the wife less than a half hour to collect and pay a huge ransom, or her husband will be killed. As in Ferrara's Bad Lieutenant, the audience never learns the names of most of the major characters in 'R Xmas; also like Bad Lieutenant (as well as King of New York and The New Rose Hotel), Ferrara invited pioneering gangster rapper Schooly-D to contribute to the film's score.
People Who Like this movie also like
News & Interviews for 'R Xmas
Critic Reviews for 'R Xmas
Audience Reviews for 'R Xmas
½
Good Ferrara film, and the first film to kick off my Xmas. The touching story of husband and wife drug dealers and the trials they encounter and lessons they learn over the holiday season. A story of family, love and charity...and sleazebags. Good performances, gritty atmosphere and typical (meaning great) Ferrara direction make this a worthy addition to the Ferrara "dirtbag cinema" catalogue.
Christopher Brown
Super Reviewer
'R Xmas Quotes
There are no approved quotes yet for this movie.