Ra. One
(2011)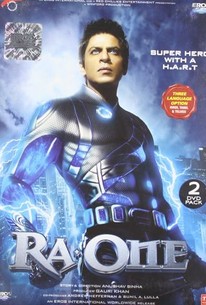 Movie Info
A father trying hard to 'fit-in' in his Son's badass world! A son... trying hard to 'dude-up' his dad from 'aiiiyyyo' to 'YO!' The father son duo-finally strikes gold...when the dad creates an ace game for his son... But all hell breaks loose when the game that was meant to be played with...starts playing them. Ra.One - The next level. -- (C) Official Site
News & Interviews for Ra. One
Critic Reviews for Ra. One
Audience Reviews for Ra. One
Hope the international audience wont judge Indian Cinema by this high-budget mediocrity.
Ra.One is not really a superhero film. The story and its hero have very few superhero elements in it. Its sci-fi, and a pretty dumb one at that. The plot has coherence issues and is sometimes illogical. The portrayal of Tamils is the film is extremely stereotypical, and is obviously used as a comic relief. The sound design and sometimes the editing were surprisingly average fare. And we have a villain who thinks he is badass, but he's basically hell bent on killing a kid because of ego issues. Yeah. Now that I listed out the negative stuff, let me come to the positive ones. The CGI is the best yet we've seen in Bollywood, though its comparable to Enthiran. The cast did a decent work. The songs were well placed. Cinematography and action were well done. The art design was just ok though. The cameos were a good addition to the entertainment. No points for guessing who got the loudest of cheers :) Srk had put his heart out marketing this one and its working. And the houseful crowd seem to enjoy the film. If you wanted to watch a mindless festival flick, this could just be it.
Ra. One Quotes
There are no approved quotes yet for this movie.