Rabid
(1979)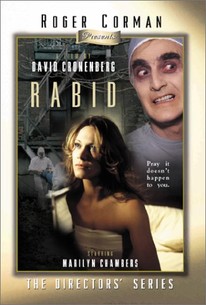 Movie Info
For his second commercial feature, following a pair of experimental films and 1977's Shivers, Canadian horror auteur David Cronenberg continued to mine the themes of disease and mutation that were already becoming his perennial concerns. Marilyn Chambers stars as Rose, an attractive young woman who becomes horribly injured in a motorcycle accident. Spirited away to the clinic of Drs. Dan and Roxanne Keloid (Howard Ryshpan and Patricia Gage), a pair of experimental plastic surgeons, Rose becomes an unwitting guinea pig in an operation that grafts genetically modified tissue into her body. Waking from her coma to find she is unable to ingest normal food, Rose unwittingly feeds on human blood by means of a phallic organ that emerges from a vulval orifice in her armpit. Within hours of providing Rose with sustenance, her victims fall prey to an incurable, highly contagious disease that turns them into raving lunatics who foam at the mouth and attack others indiscriminately. Soon, Montreal is under martial law, but nobody can find the Typhoid Mary whose vampiric urges are driving the epidemic -- not even Hart (Frank Moore), Rose's befuddled boyfriend. Although she is best-known for her starring role in the crossover porn epic Behind the Green Door, Chambers actually received her start in features with 1970's The Owl and the Pussycat. Rabid also stars TV and stage veteran Joe Silver as Murray Cypher, a mutual friend of Hart and the Keloids. ~ Brian J. Dillard, Rovi
Audience Reviews for Rabid
Okay, but kind of off putting. A lot of blood and gore as you would expect from a movie about a freak case of rabies. It kind of made me uncomfortable at times - it didn't seem all that nice towards women, for example the extra "mouth", a lot of female nudity and though the lead actress is good, it is interesting to watch the extra features on this disc and discover she was actually a porn star. I'm a bit iffy on this director.
Nicki Marie
Super Reviewer
½
Hands down the best Canadian zombie film starring a porn star.
Ken Stachnik
Super Reviewer
½
Yet more gross-out fun from Cronenberg. This is basically Shivers again on a much larger scale as the chaos and madness of rabies infected people plague the city of Montreal thanks to the vampirous Marilyn Chambers and her nasty armpit. If you liked Shivers and other infection/plague movies like 28 days Later than this is worth a viewing.
Rabid Quotes
There are no approved quotes yet for this movie.