Ragtime
(1981)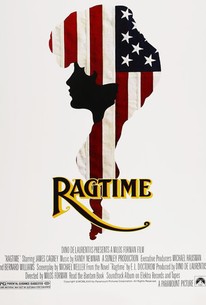 Movie Info
Milos Foreman's cinematic adaptation of E.L. Doctrow's sprawling pop-culture epic Ragtime follows a variety of characters whose lives intertwine during the earliest years of the 20th century. Brad Dourif plays the meek young brother in a wealthy family who ends up helping Coalhouse Walker Jr. (Howard E. Rollins) when the proud black man stands up to the racism that surrounds him with a criminal act that leads to a standoff with a police commissioner (James Cagney - making his return to the big screen after fifteen years away). Secondary characters include a street artist (Mandy Patinkin) who gets his foot in the door of the nascent film business, and a flighty young woman (Elizabeth McGovern) who inspires men who desire her to violence. Randy Newman composed the score, which included a song that earned him his first Oscar nomination.
Critic Reviews for Ragtime
Audience Reviews for Ragtime
The problem with most of the reviews I've read about this film is they worry too much about the source material and what was left out. They lament how the film varies from the book, omitting details that, had they been included, would have pushed Ragtime to miniseries length, not a stand alone movie. Taking the movie on its own merits, it is a masterfully coordinated collection of many characters (mostly fictional) whose lives intertwine in multiple ways. Where other movies beat you over the head pointing out such coincidences, Ragtime presents them with a subtlety you don't often experience in American cinema. All actors in the film deliver -- from legends like James Cagney to bit part players like Fran Drescher (of all people) -- and none quite so brilliantly as Howard Rollins who shines brightly here at the height of his short career. I've always thought Ragtime is one of those special films -- underrated upon its release and a thing popular movie audiences don't quite know what to do with -- that will one day be considered a masterpiece. After recently watching it again after many years, I have no reason to think otherwise.
Mark Feggeler
i saw this movie when i was a kid and watch it briefly tonight on TV, its still a great movie even today. The quality of film is amazing and this movie really made everything look original for its time. Fantastic movie
Scott Marc
½
Milos Foreman's opus about early 1900's America works on a few different levels. It is a great costume and detailed film, good score, powerful acting, and a great cast (Steenburgen is a little iffy at times though). It was great to see some of the old school cats like James Cagney, in his final role, get screen time. Cagney and Brad Dourif definitely make this pretty great. Hey and there was a youngish Samuel L as part of Howard Rollin's gang. Ragtime was a movie that I always wanted to see based off me liking One Flew Over the Cuckoo's Nest, Amadeus, and Man on the Moon. Sometimes the movies you want to see for years wind up sucking or disappointing but Ragtime was good.
Rodney Eckrich
Ragtime Quotes
There are no approved quotes yet for this movie.
Discussion Forum
Discuss Ragtime on our Movie forum!